500 dead sea lions found on Peru beach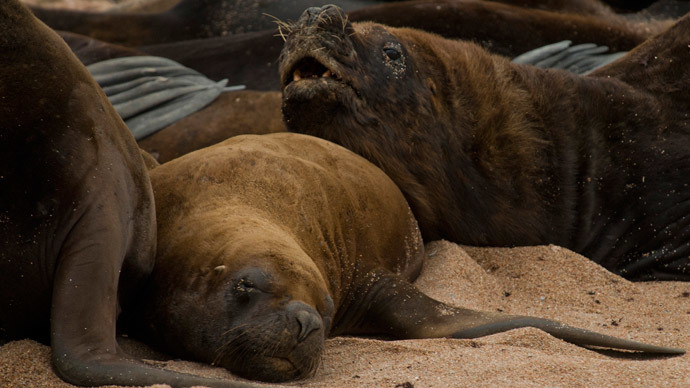 About 500 decomposing remains of sea lions have been found off a beach in Peru. The cause of the mass deaths is not yet clear, however, the local governor blames marine farmers and fishermen in poisoning the animals.
The bodies of both adult and pup sea lions were found on the coast of Santa province, Ancash Region in northern Peru, environmental police told the Peruvian Andina news. The beach lies 400km north of the country's capital, Lima.
The governor of the local Samanco district wrote a complaint to police authorities claiming that the animals had been poisoned by local marine farmers and fisherman who collect shellfish on the beach.
The marine mammals used to come closer to the seaside searching for sea food and scallops.
READ MORE:Barely surviving: Alaska's polar bear population falls 40% in 10 years
Perú: Hallan 500 lobos marinos muertos en la playa http://t.co/iz6d5J78Erpic.twitter.com/Nf4X9tRIP1

— Noticieros Televisa (@NTelevisa_com) November 24, 2014
The city workers dragged the corpses away to the municipal dump as they posed a threat to the public health. The bodies were so decomposed that police said it was difficult to determine the cause of death.
Santa city officials, prosecutors and Production Ministry officials promised an investigation into the deaths anyway.
READ MOTRE:88% of world's oceans covered by plastic junk – study
In early November at least 187 another dead bodies of sea lions were found in the northwestern Piura Region of Peru. They were discovered along with the carcasses of dolphins, sea turtles and pelicans.
In October Aldo Aguirre, the head of the Illescas nature reserve in northwestern Peru, said the authorities found 117 dead seals. He said the animals might have died due to starvation.
"If you look at the last two years, and there was a high and abnormal number of strandings in summer, between the months of February and March, and it did the same in the year 2014, but assume that this phenomenon was ahead, as it should occur in the first months of 2015," said Aguirre.