35,000 walruses forced onto land in Alaska due to decrease in Arctic Sea ice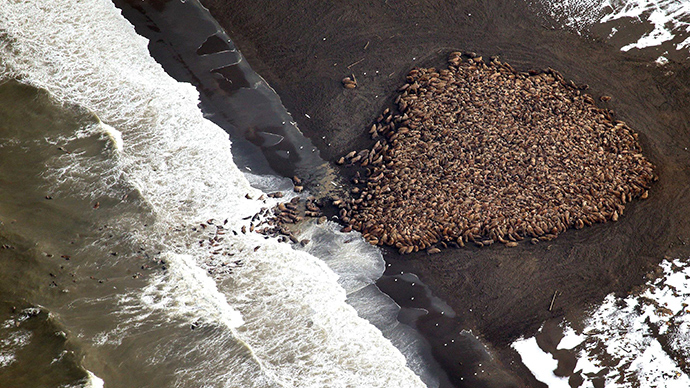 Record numbers of Pacific walruses have come ashore in northwest Alaska after being unable to find ice in the Arctic waters to rest and feed themselves. The enormous gathering has caused further concerns over global climate change.
An estimated 35,000 walruses were photographed last week, all gathered on a beach about five miles north of Point Lay village in Alaska, according to the US National Oceanic and Atmospheric Administration (NOAA).

Spotted during NOAA's annual aerial survey, the arctic marine mammals were forced ashore after failing to find sea ice, according to the scientists.

Unlike seals, walruses cannot swim indefinitely, and they use ice to rest, or "haul out," pulling themselves onto a solid surface. Walruses also use ice as a diving platform to reach food, and females give birth on the surfaces.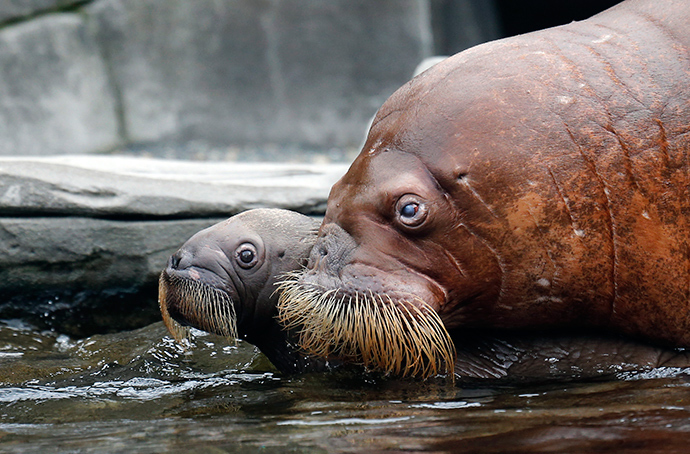 Walruses are currently gathering in vast numbers on land near the Chukchi Sea, raising further concerns of a warming climate.

"The massive concentration of walruses onshore, when they should be scattered broadly in ice-covered waters, is just one example of the impacts of climate change on the distribution of marine species in the Arctic," Margaret Williams, managing director of the World Wildlife Fund's (WWF) Arctic program, said in a statement.

A report from the National Snow and Ice Data Center on September 22 said that Arctic Sea ice had reached its lowest levels of the year on September 17 – the sixth-lowest amount on record. "Not since records began has the region of the North Pacific Ocean been so warm for so long," the NOAA report stated.

According to NOAA, the large haul-outs are a relatively new phenomenon, with the first ones spotted in 2007. The WWF says other haul-outs have been reported to the west of Alaska, on Russian shores.