US federal court dents Shell Arctic oil ambition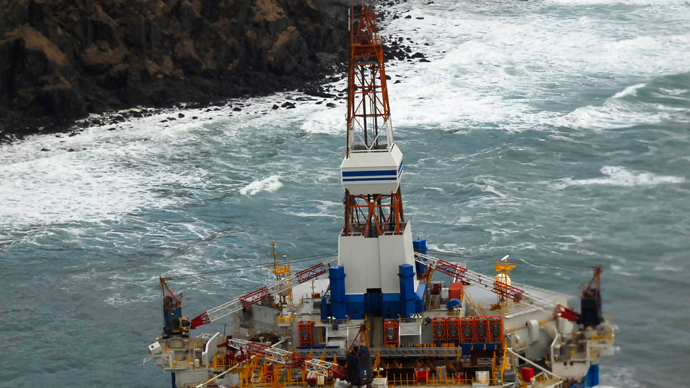 ​The ambition of Shell to start extracting oil in the Alaska shelf in Arctic waters this summer has faced another delay, as the US federal court claimed environmental risks of drilling had not been correctly assessed.
Opening up about 30 million acres of US Arctic waters to oil exploration six years ago was illegal, according to a ruling by the Ninth Circuit Court of Appeals.
The oil giant was brief in its comment on the court ruling, saying it was just "reviewing the opinion," the Financial Times says. Shell has already ineffectually spent $5 billion on oil exploration in the Chukchi and Beauford Seas.
The decision of the court after six years of struggle by the Wilderness Society and other groups against the sale of the licenses was called a victory for wildlife conservation.
"The government has no business offering oil companies leases in the Chukchi Sea. The area is home to iconic species such as polar bear, bowhead whales and walrus and to a vibrant indigenous subsistence culture. Drilling for oil puts at risk the region's wildlife and people, and it takes us off the path toward a clean energy future," the Guardian quotes Wilderness society activists.
Greenpeace called the decision of the court not less than a "massive blow to Shell's Arctic ambitions", and it was a baptism of fire for the new Shell chief executive, who was appointed a few weeks before the announcement.
"The court decision means the USA interior department has to go back to the drawing board before it can reissue any new license to Shell. Shell had already lost the case for Arctic drilling in the court of public opinion – today [on Wednesday] they have lost the case in a court of law as well," John Sauven, the executive director of Greenpeace UK said.
The exploration epic began in 2008, when the US government was selling license blocks of the Chukchi. The bid for the anticipated sale jumped to a record $2.66 billion in bids, $2.1 billion of which Shell paid.
It is estimated that the Arctic holds around 30 percent of the world's undiscovered natural gas and 13 percent of its unfound oil. This amounts to around 400 billion barrels of oil equivalent to 10 times the total oil and gas produced to date in the North Sea. According to Shell, developing the Arctic could be essential to securing energy supplies for the future.
You can share this story on social media: