166 climbing walruses fall to their deaths in Russia's Chukotka
Published time: 12 Oct, 2014 11:22
Edited time: 13 Oct, 2014 11:49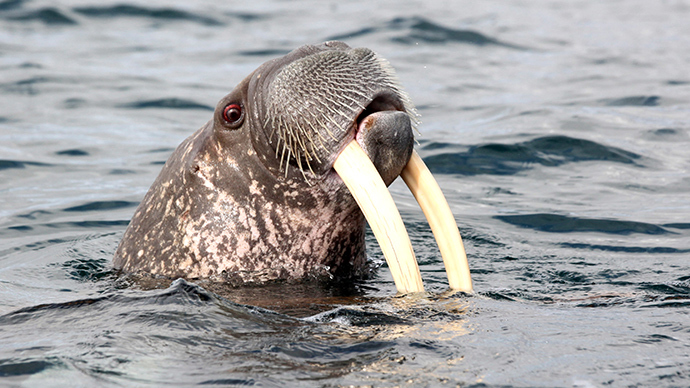 Overcrowding at a remote cape in the Russian Far East used by walruses as a summertime camp left 166 pinnipeds dead. Many of them fell to their death after climbing up a steep 30-meter slope.
The Kozhevnikov Cape is located in the north of the Chukotka region, stretching further north into the Chukchi Sea. Every summer thousands of walruses travel to the site to spend their feeding time there before migrating on. The aggregation is among the largest for the population, and the overcrowding at the narrow rocky beach often leads to injuries and deaths.
This season at least 166 animals died at the Kozhevnikov Cape, according to the Russian branch of the World Wide Fund for Nature (WWF), which organizes watches to keep the walruses from disturbances. After the animals left in late September, the activists helped clean the beach and found the bodies, including 69 calves, 27 youngsters and 20 adults.
"Most likely the walruses, who were spending their time higher on the hill, fell down as they were trying to descent to the sea. This caused injuries and deaths and also made the animals panic," WWF Russia's marine animal projects coordinator, Varvara Semyonova, said.
The recovery of the bodies was necessary because walruses, even dead ones, attract hungry polar bears. Two of them were occasionally spotted nearby over the summer, and in previous years up to five bears could be seen near the Kozhevnikov Cape.
They wouldn't be a matter of concern for the natural reserve unless there was a small village of native Chukchi people just a kilometer south. With walruses available for hunting, the bears do not bother the humans, but once the food source disappears the residents prefer to be cautious.
READ: 35,000 walruses forced onto land in Alaska due to decrease in Arctic Sea ice
Animal protection groups, including the WWF, are concerned that the melting of ice in the Arctic poses a threat to walruses, who use pack ice for mating and resting. With less ice to accommodate them, the animals flock to shores. The Kozhevnikov Cape hosted some 10,000 walruses this year, while in some years the number could reach as high as 50,000.
For Chukchi people walruses remain a traditional hunting animal, although it is regulated. The annual quota for Chukotka natives is 1,800.