Ultra-rare white lion cubs born in Crimean zoo (VIDEO)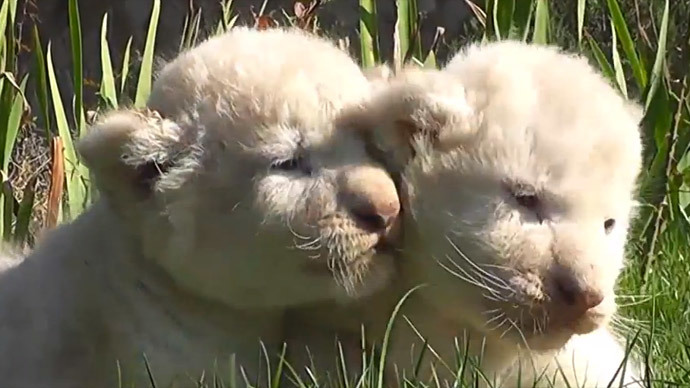 Two-week-old white lion cubs have been showing their toothless grins to zoo visitors and workers at the Taigan Safari Park in Crimea. Check out the touching footage of the adorable little cubs taken by RT.
The video shows three cubs lying in the grass together and hugged by the park's director, and then taken to their father and mother – the latter a gorgeous white lioness.
The director of the safari park noted how unique the cubs are.
"We are happy about all baby animals born in the Taigan Safari Park, but we're happiest about rare animal births, like white lions. There is a really small number of them all over the world. But in Taigan Safari Park they are always being born to our adult lioness," Oleg Zubkov told RT.
The Taigan park was created two years ago, and it's the first facility of its kind sort in the world, with 50 lions living freely in 30 hectares of Crimean land.
The white lion is an extremely rare color mutation: in the wild, lions like this can only be found in the Timbavati area of Africa. The earliest sighting is said to have happened in 1938, and the official discovery in 1975.
You can share this story on social media: