Christmas blessings from Russia: Moscow helps Paris fund Notre Dame X-mas tree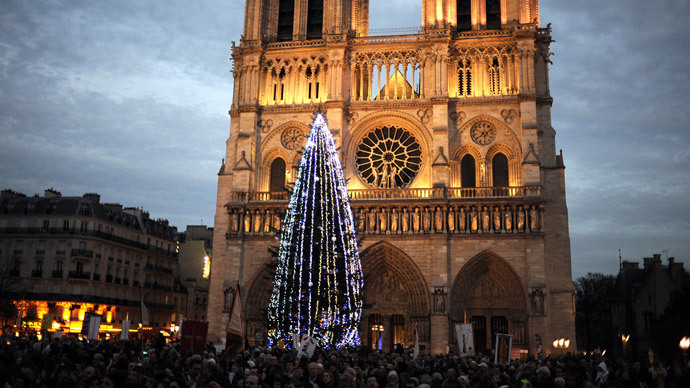 Christmas cheer has come to the French capital, as Notre Dame de Paris was graced with its Christmas tree, funded and set up with Russian help. This year the local parish could not reach its financial goals, so Moscow stepped in.
The tree now stands in the square in front of the Notre Dame Cathedral, as tradition dictates.
In the past, it was customary for donations toward the tree to be collected only with the help of the local parish. This year, however, it couldn't make the target. In the short space of time remaining, Moscow City Hall came to the rescue.
Saturday's ceremony was attended by Russian ambassador Aleksandr Orlov and the rector of the Notre Dame de Paris, Monsignor Patrick Jacquin, both of whom took part in switching on the enormous tree.
"I have chosen this tree from my forests," came the announcement from none other than Santa Claus, later revealed to be Russian embassy spokesperson Sergei Parinov.
"We thank you for this friendly gesture," Monsignor Patrick Jacquin said, as he wished the Russian people a Merry Christmas.
"This afternoon the Christmas tree was blessed and the inaugurated. The diocese of Paris received it from Russia. The Russian ambassador came to join the Cardinal Archbishop of Paris, Andre Vingt-Trois, with a small delegation of the Russian community. The tree was presented and blessed. It was very friendly and I thank you very much for caring for the diocese of Paris," Bruno Lefevre Pontalis, General-Curate of the Roman Catholic Archdiocese of Paris, told Ruptly news agency.
Despite currently strained relations between Russia and Europe, the Russian embassy denied any political implications insisting this was purely a friendly gesture.
Not too long ago, Moscow was hit with a fresh round of Western sanctions targeting its finance and energy sectors, among other things.
Meanwhile the 1.12 billion-euro French-Russian Mistral warship deal is also teetering on the edge, with 2,500 French shipyard jobs on the brink (and France is one of the hardest-hit EU states with regard to employment), as France ignored the second delivery date for the helicopter carriers.
READ MORE: 'Outraged' French union urges Hollande to honor Mistral deal, 2,500 jobs at stake
It has lately been a very bumpy ride for Russian-French relations, but the spirit of Christmas evidently has the power to change all that, at least once a year.