XXXmas redacted: Artist removes giant 'sex toy' Christmas tree in Paris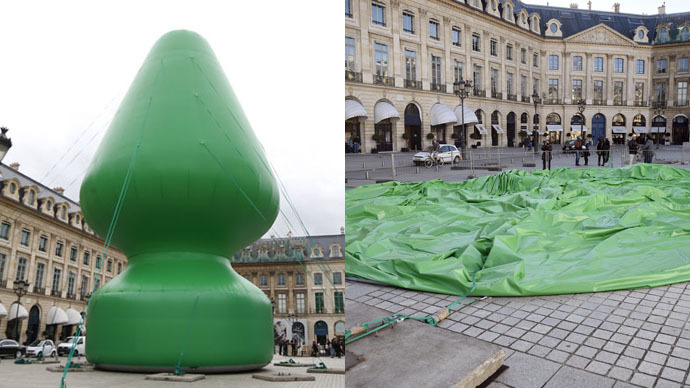 The creator of the controversial inflatable Christmas tree in a Paris square has decided to remove it, after drawing outrage from the citizens who even attempted to deflate the installation.
Giant sex toy or Christmas tree? Paris baffled and outraged (VIDEO)

"Instead of a profound reflection about objects as a mode of expression with multiple meanings, we have witnessed violent reactions," American artist Paul McCarthy told journalists.

The organizers of the upcoming International Contemporary Art Fair Paris, where "The Tree" installation was due to appear, said "the artist was worried about potential trouble if the work was re-erected."

The scandalous 24-meter high "tree" went up this week in the Place Vendôme in the center of Paris.
Dernières nouvelles : le tentative de regonfler le '#Tree' a échoué :( #JeSuisSurPlacepic.twitter.com/4Z8otqWRQX

— wade h grimbly (@worldwidewade) October 18, 2014
"It all started with a joke. Originally, I thought that a butt plug had a shape similar to the sculptures of [Romanian artist] Constantin Brâncusi. Afterwards, I realized that it looked like a Christmas tree," McCarthy told French Le Monde. "People can be offended if they want to think of it as a plug, but for me it is more of an abstraction."
However, Paris residents were not so enthusiastic about the sculpture. They said the artwork resembled a 'butt plug' and all it had in common with a Christmas tree was its green color.

"This is one of the most beautiful squares in Paris - I like contemporary art, that is not the problem, but this work is ugly, I find the color ugly, I find it violent at this location," a local woman told Ruptly.

La France unplugged. #PlugGatepic.twitter.com/NrverFEs7R

— dan romandini (@DanRomandini) October 18, 2014
McCarthy was reportedly attacked by a man who hit him three times in the face and told him, "you're not French and the work has no place on the square."

"A giant 24-meter high butt plug has just been set up at Place Vendôme! Place Vendôme disfigured! Paris humiliated!" wrote the Printemps Français, a right-wing pressure group, on Twitter.

On Saturday, some outraged residents tried to deflate the inflammable sculpture and cut the cables the "Tree" was kept in place with. The hapless installation was left slumped on the pavement.

It's not the first time McCarthy has been villified for his works. In 2001, he created 'Santa Claus' for Rotterdam in the Netherlands, referred to by town residents as a 'Butt Plug Gnome'.

In 2009, in an exhibition called "White Snow", the artist featured Disney's Snow White and the Seven Dwarves in sexual situations.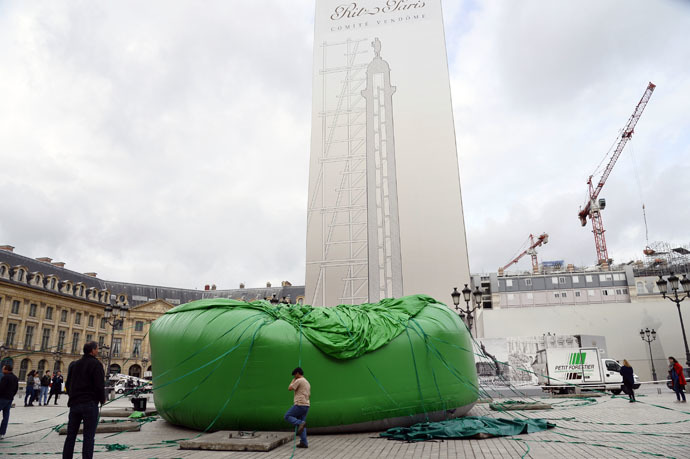 You can share this story on social media: