'Human face of science': Researchers dance to raise funds for cancer study (VIDEO)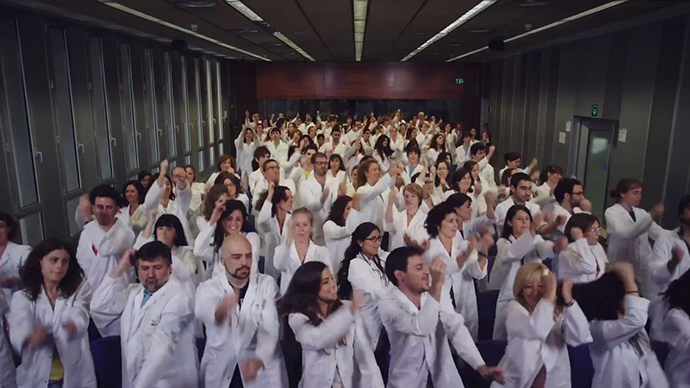 Biomedicine scientists in Barcelona have released a music clip aimed at raising funds for medical research, as well as promoting their profession's "human face." The video's release comes amid low levels of public interest in science throughout Spain.
To support studies and raise worldwide awareness of diseases such as cancer, Alzheimer's, and diabetes, scientists at Spain's Institute for Research in Biomedicine (IRB) made a video highlighting their profession's importance in modern-day society.

Dancing to 'Safe and Sound' by US indie pop band Capital Cities, the researchers are aiming to engage the public in their work, by promoting it in a fun and friendly way.
The video shows people in white gowns dancing in lecture halls and laboratories, as well as near Barcelona's famous landmarks.

"We wanted to show the human face of scientists, to show the public that they don't just live in labs. They are young people with the same hopes, fears and dreams as everyone else," Anna Merlos, strategic projects and philanthropy officer at IRB, told The Local.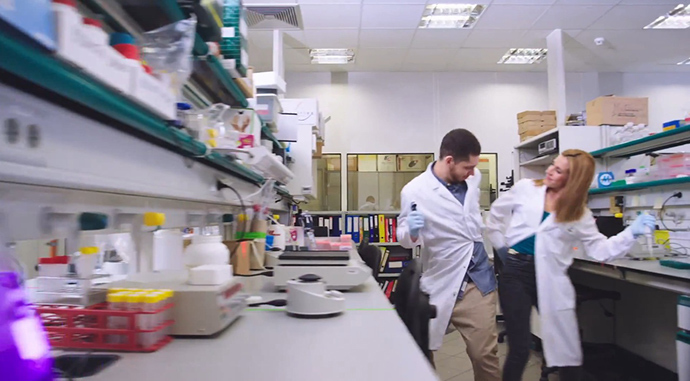 The institute teamed up with a number of drug and biomedical research firms, who sponsored the video and promised a donation to IRB in Barcelona for each viewing of the clip on YouTube.

By Friday, the video had accumulated over 430,000 views.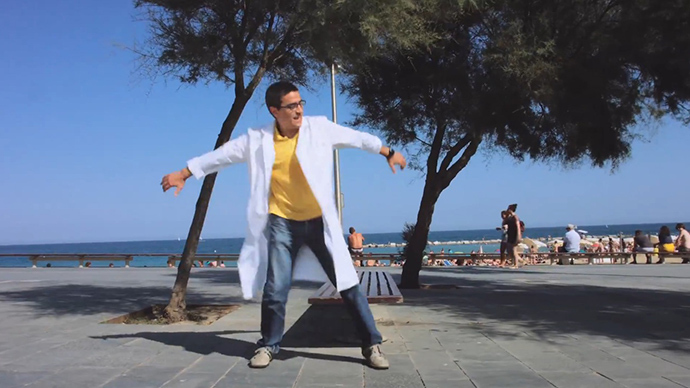 The effort comes at a time of low levels of public interest in science in Spain, causing serious concern for many in the field, the Local reported.

According to a 2012 study conducted in the country, the nation's basic knowledge in the area is one of the worst in the developed world. Almost 46 percent of Spaniards couldn't name a single scientist, living or dead, of any nationality.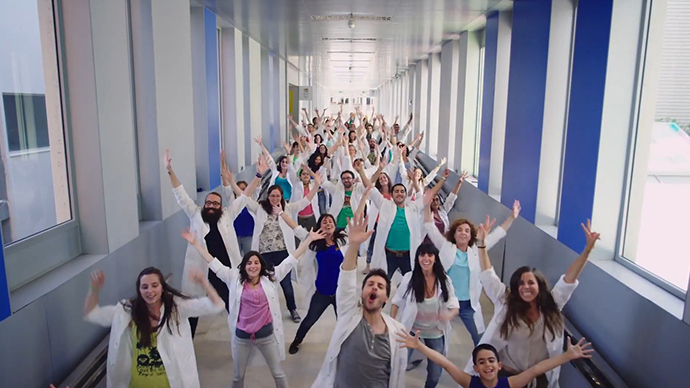 Showing employees of serious professions in an unexpected and entertaining light has proven to be a hit on social networks.

Millions of people watched a video of Russian police performing a cover version of a Daft Punk song in 2013. The clip was such a success that the choir of policemen were asked to perform at the opening ceremony of the Sochi Olympics.
You can share this story on social media: