'Racist' Israeli mayor bans Arab workers from kindergartens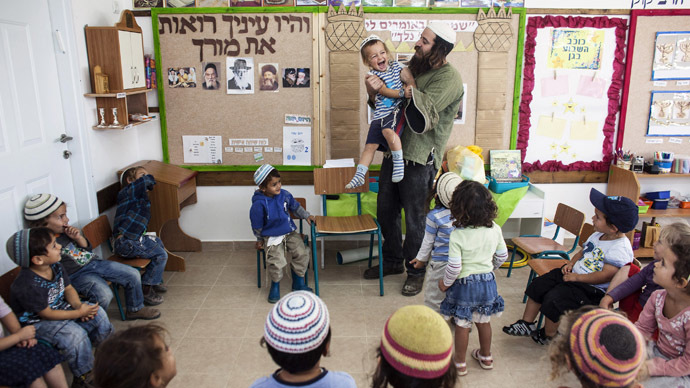 An Israeli mayor says he will stop Arabs from working at kindergartens due to the rising tensions between Israel and Palestine. He also said guards would be placed at 40 pre-schools which are located next to construction sites where Arabs are working.
Ashkelon Mayor Itamar Shimoni defended his decision Thursday, saying, "I have nothing against Arab Israelis, they work with us throughout the year and do construction for us." However, he said, when tensions are high, just as Jews should be prevented from entering the Temple Mount, "by the same measure, I think it is wrong to allow Arab workers into the kindergartens," Israeli newspaper Haaretz reported.
In a more strongly worded statement, Shimoni, who is mayor of the city of Ashkelon, which is close to the border with the Gaza Strip, told Channel Two television: "Whoever thinks this is illegal can take me to the Supreme Court. I prefer, at this time, to be taken to the Supreme Court, and not, God forbid, to be taken to a funeral of a kindergarten child," Reuters reported.
#Ashkelon mayor bars #Arabs from working in kindergartens, in order to 'make parents feel their children are safe.'

— Paula Slier (@PaulaSlier_RT) November 20, 2014
Shimoni's comments were strongly condemned across the political spectrum.
"There is no place for discrimination against Arab Israelis," Prime Minister Benjamin Netanyahu said. "We cannot make generalizations about an entire population based on a small unruly minority. Most Arabs citizens of Israel are law-abiding."
Shimoni says he wanted to increase security for parents, children and teachers in the wake of five people being killed in synagogue in East Jerusalem by two Arabs in a terror attack on Tuesday. Three US-Israelis and one UK-Israeli were amongst the victims, when they were attacked with knives, axes and a pistol. A police officer was also killed and seven people were injured. Both attackers were shot dead by police.
However, Defense Minister Moshe Yaalon said it would be going against Israel's "fundamental values" not to allow them to work just because of their religion.
"Especially now, we must condemn every act of racism and discrimination against Israeli Arabs and every human being, and make an effort to calm tensions instead of inflaming them," he said, the Jerusalem Post reported.
Glad to see even the most right-wing members of #Israel's government taking a stance against #racism. #Ashkelon's mayor should be ashamed.

— Laurie Scher (@lauriescher1) November 20, 2014
The Mossawa Center, which champions the rights of Israeli-Arabs, said it would take Shimoni to court for incitement to violate anti-discrimination labor laws. "If Jews worked in construction, Arabs wouldn't be employed," the organization said, according to Haaretz. The center also said that if Arab-Israelis were prevented from working, this would lead to a collective loss of more than 100 million shekels a day ($26 million). A large portion of Arab-Israelis who make up 20 percent of Israel's population work in the construction industry.
Economics Minister Naftali Bennett said he would work to make sure the decision was overturned, saying that 99.9 percent of Arab Israelis were law-abiding citizens and loyal to their country.
"There is a very small minority that is against us. As economy minister, I will not allow any worker to be harmed based on religion or race – this will not happen in Israel."
I'm starting to think ashkelon mayor banned arab workers just so that every member of government could have opp to say they are not racist

— Mairav Zonszein (@MairavZ) November 20, 2014
Parents were left in the dark about the Ashkelon mayor's plans to ban Arab construction workers from three kindergartens in the city. The head of the city's Parents Association, Avivit Simani said, "I want to clarify unequivocally that the mayor made the decision to remove Arab workers from kindergartens without notifying the municipal Parents Association and without consulting with representatives of parents groups," The Times of Israel reported.
In the wake of recent terror attacks against Israeli citizens, the Public Security Minister Yitzhak Aharonovitch said that gun rules will be loosened, which will enable private security guards to be able to carry weapons even when they are off duty. He also added that more gun permits would be issued to retired military and security officers.
Tensions have been running high in recent weeks with terror attacks taking place in East Jerusalem in particular, but also in other parts of Israel. This is partly due to Palestinians being outraged by Israel controlling and sometimes closing access to the Al-Aqsa Mosque, which is the third holiest place of worship in Islam. Jews are allowed to come to Al-Aqsa but they cannot pray inside the building. It was captured by Israel in 1967, but Muslims govern the area.
You can share this story on social media: