Global terrorism on rise: Fivefold increase in terror-related deaths since 2000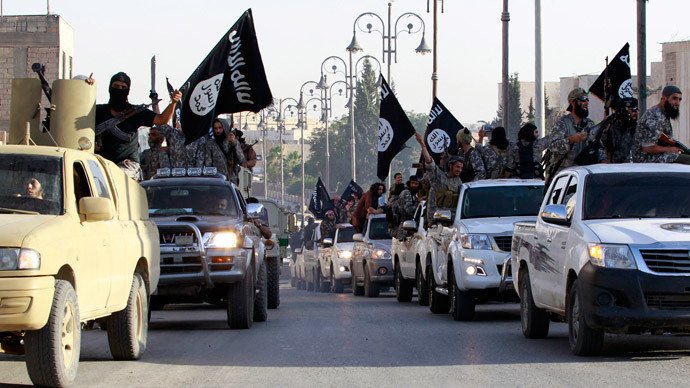 Almost 18,000 people were killed in terrorist attacks in 2013, a 61 percent increase from the 2012. Four terrorist groups, the Islamic State, Al-Qaeda, the Taliban and Boko Haram were responsible for two thirds of all such deaths around the globe.
Almost 18,000 people were killed in terrorist attacks in 2013, a 61 percent increase from the 2012. Four terrorist groups, the Islamic State, Al-Qaeda, the Taliban and Boko Haram were responsible for two thirds of all such deaths around the globe.
The Global Terrorism Index, produced by the London-based Institute for Economics and Peace, also found that 80 percent of terrorist attack fatalities occurred in only five countries; Afghanistan, Iraq, Nigeria, Pakistan and Syria.
Worryingly, the 63 percent increase from 11,133 terrorist deaths in 2012 to 17,958 in 2013 is the biggest year-on-year escalation since records began in 2000. Since the turn of the millennium, the number of deaths due to terrorist activates has increased fivefold, which also coincided with US military campaigns in Afghanistan and Iraq.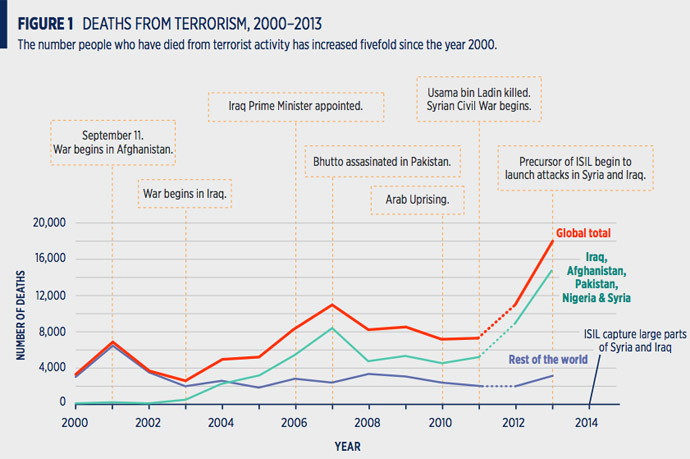 There has also been a sharp increase in the number of terrorist attacks, with almost 10,000 occurring in 2013. However, the report also showed that around 50 percent of terrorist attacks did not claim any lives.
Since 2000, the Taliban has been responsible for the most deaths, 8763, from terror attacks, closely followed by Al-Qaeda with 8585. The Islamic State (IS, formerly known as ISIS/ISIL) and Boko Haram both became more active in 2009, which was the first year that either group killed over 300 people. Based on data up to the end of 2013, these two groups have killed in excess of 3,000 people in four years, half of which was in 2013 alone.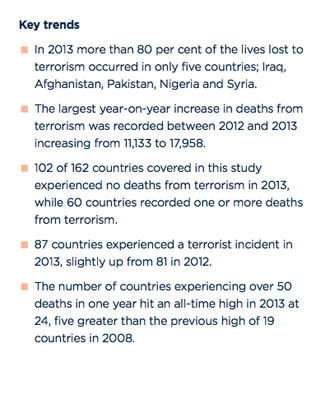 However, things could get even worse next year, as the publication does not include the mass killings carried out by the militant IS, which have been taking place in Iraq and Syria since the summer.
"There is no doubt it is a growing problem. The causes are complex but the four groups responsible for most of the deaths all have their roots in fundamentalist Islam," said the Institute for Economics and Peace founder Steve Killelea.
"They are particularly angry about the spread of Western education. That makes any attempt at the kind of social mobilizing you need to stop them particularly difficult - it can just antagonize them more," he said.
The report states that, "The rise in terrorist activity coincided with the US invasion of Iraq. This created large power vacuums in the country allowing different factions to surface and become violent."
However, despite the US spending tens of billions of dollars on counterterrorism operations, figures produced by the Rand Corporation shows that only seven percent of terrorist groups have been quelled due to military action. The organization says that policing and negotiations are the most successful way of countering terrorist groups, with the two having a combined success rate of 83 percent.
"The majority of terrorist groups ended by joining the political process, or were destroyed by policing and intelligence agencies breaking up the group and either arresting or killing key members. Military force in of itself was rarely responsible for ending terrorist groups," the report, published in the General Terrorism Index (GTI), stated.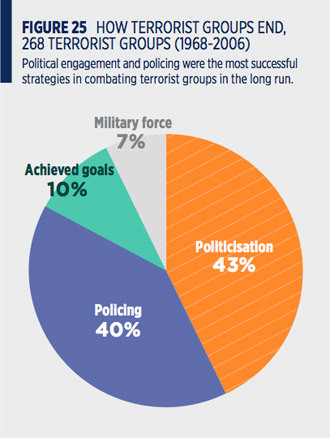 However, terrorist groups are now targeting police and security forces with even greater frequency, thus making it much harder to try and manage the problem, according to Killelea. He added that this can lead to rights abuses against the civilian population, which can sometimes inflame an already-volatile situation even further.
Terrorist incidents have increased significantly in Iraq during 2013 with the number of deaths rising by 162 percent from 2012. Bombings are the tactics almost exclusively used by terrorist groups, with this method accounting for 87 percent of deaths and 97 percent of injuries. Suicide attacks also continue to be used, with a very high cost to human life - an average of over seven deaths per suicide attack.
Since the civil war in Syria started in 2011, there has been amassive increase in terror activity. From 1998 to 2010 there were a combined total of just 27 deaths. However, since the start of unrest to try and topple President Bashar Assad, that number has already jumped to well over a thousand by the end of 2013.
Since 2000, suicide attacks have accounted for 5 percent of deaths in terror activities, while the tactic is most favored by militant group Hamas. The Palestinian organization has carried out 195 attacks, 24 percent of which have been suicide missions. However, their last suicide attack was in 2008, according to data in the report, which also stated that 60 percent of attacks involved explosives, 20 percent firearms and 10 percent through other actions, such as arson or attacks with motor vehicles.
Both Syria and Iraq have witnessed religious struggles between Sunni and Shia Muslims, which has led to an increase in terrorist activity.
"Religion as a driving ideology for terrorism has dramatically increased since 2000. Prior to 2000 nationalist separatist agendas were the biggest drivers of terrorist organizations," the report adds.
The report also showed that the number of countries which experienced deaths as a result of terrorist attacks had reached a new high of 24 in 2013, up from the previous record of 19 nations in 2008.
Over the past 14 years, five percent of all terrorist deaths have taken place in Organization for Economic Co-operation and Development (OECD) countries. The data excludes the September 11 terrorist attacks, but shows that Turkey and Israel have experienced the highest number of deaths.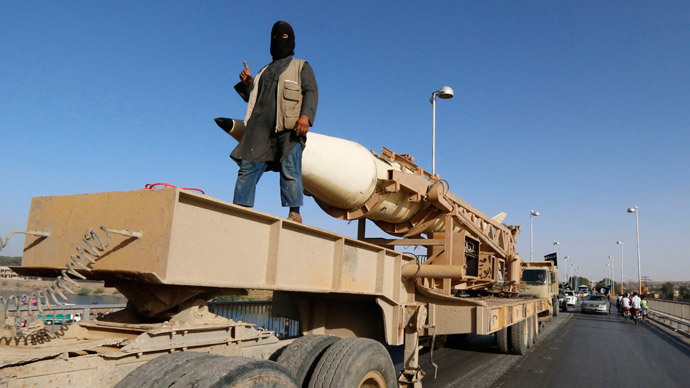 Although not as frequent as in the Middle East and Africa, OECD countries have experienced some of the heaviest-casualty terrorist attacks, such as the London bombings in July 2005 and the Madrid train bombings in March 2004.
"Terrorism as a tactic of sustained mass destruction on a large scale is mostly ineffective. However, large scale explosions and mass deaths cause large, unpredictable and unintended consequences, whereas individual deaths have much smaller flow-on effects," the report added.
Although terrorist attacks are constantly in the news, figures show that 40 times more people are murdered around the globe every year, in comparison to those losing their lives as a consequence of terrorist activities.
You can share this story on social media: