Butchery in Nigeria: At least 185 killed as army battles Islamists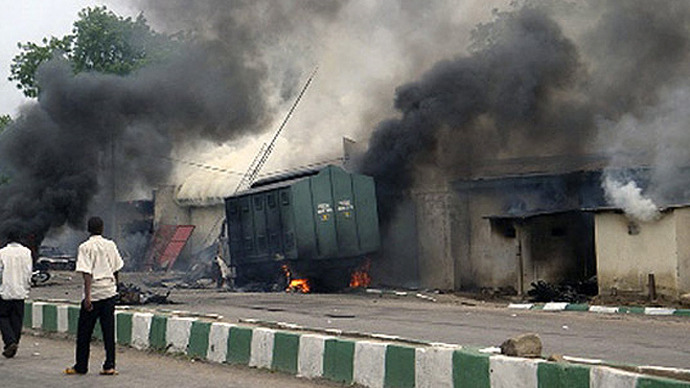 A northeastern Nigerian town turned into a slaughterhouse as a battle between government troops and Islamist militants left at least 185 dead. Heavily-armed extremists used locals as human shields while soldiers set residential quarters on fire.
The town of Baga, on the border with Chad, has been largely devastated in hours-long fully-fledged urban combat between regular troops and Islamist insurgents that started on Friday, local government official Lawan Kole told AP on Sunday.
The official body count confirms 185 citizens have been found dead. The real number of casualties is much greater, as citizens continue to collect corpses throughout the town and in the suburbs.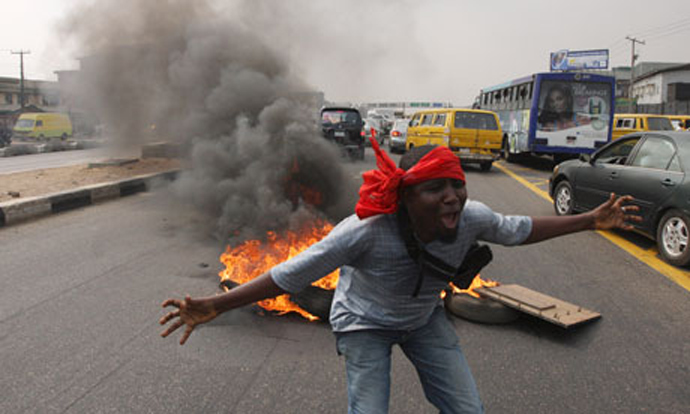 The streets of Baga were strewn with the corpses of dead humans and animals and about 2,000 private houses and several markets were burnt down in fighting, reported local officials when they returned to the town on Sunday.

Most bodies were burnt beyond recognition as fire raged through the town. According to Muslim tradition the bodies were buried the same day, AP reports.
This new stage of the conflict started on Friday after Islamic extremists of the 'Congregation of the People of Tradition for Proselytism', widely known as Boko Haram ('Western education is sinful' in the western African Hausa language), insurgency murdered an army officer. In return government troops blocked a mosque where they believed the militants found refuge, but very soon more militants armed with automatic weapons, heavy machine guns and rocket-propelled grenades became engaged. Heavy gunfire and explosions of the battle sent civilians fleeing into the bushland around the town.
They only dared to return on Sunday, when government officials returned to the town, only to find their dwellings and businesses in ashes, vehicles burnt down and scores of corpses on the streets.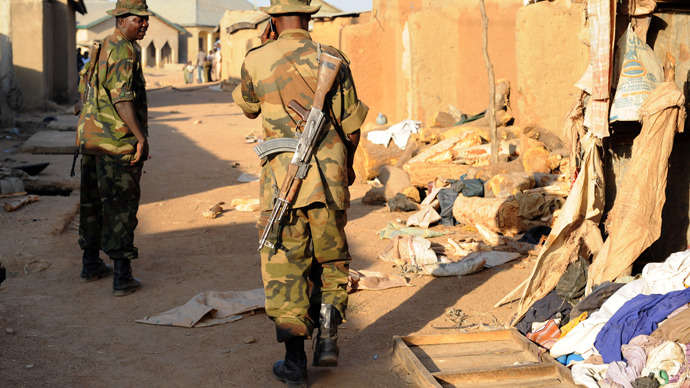 Brig. Gen. Austin Edokpaye told government officials that the militants were using town's civilians as human shields during the fighting. He said the fires in the town started because of explosions, including those of caused by rocket-propelled grenades which could have a incendiary effect.
But locals also told AP journalist that soldiers were deliberately setting buildings on fire to drive militants out of private houses they used as sanctuary.
Many Baga residents have decided to leave the city for good, fearing that the militants will return sooner or later.
Nigerian authorities believe the escalation of the violence on the part of Boko Haram insurgency, is due to militants obtaining heavier, military-grade weapons.
Boko Haram declares plans to found an Islamic state with strict Sharia law cut out of Nigerian territory. Nigeria, with a population of over 160 million, is a multicultural and multi-confessional country, though its northern border with Chad is predominantly Muslim.
Massacres, kidnappings and raids have characterized Nigeria's extremist insurgency in northern regions of the country since the riot started by Boko Haram in 2009. The riot was suppressed with a price of some 700 human casualties.
After that, hit-and-run attacks and suicide bombings continued, claiming at least over 1,500 lives since 2010.
You can share this story on social media: