Tough treatment: Doctors in war-torn Ukraine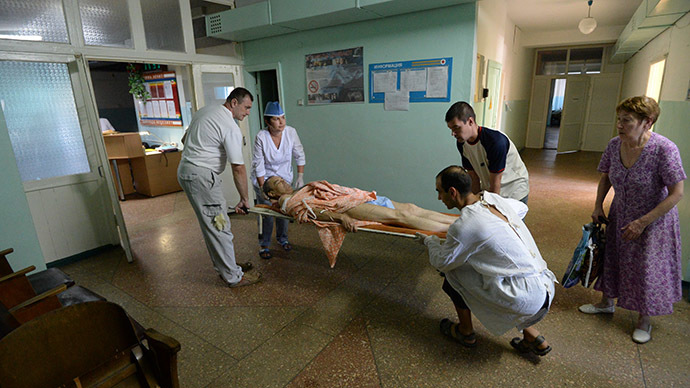 Being a doctor in rebel-occupied Donetsk is challenging work, especially as Kiev authorities have cut off funding for doctors. RT's Jean Flight meets the medical staff that are treating the victims of bullets and cluster bombs.
Roman, 23, is a militiaman. He wanders restlessly up and down the hospital corridor. Sometimes he stops by a ward door. He is wearing a uniform with a hood covering his eyes and a bandage strapping his chin. He holds a silver cross in his hand. Injured by a bomb fragment, he can barely speak: the doctors screwed a metal plate into his bottom jaw, and he still has a lot of surgery to go.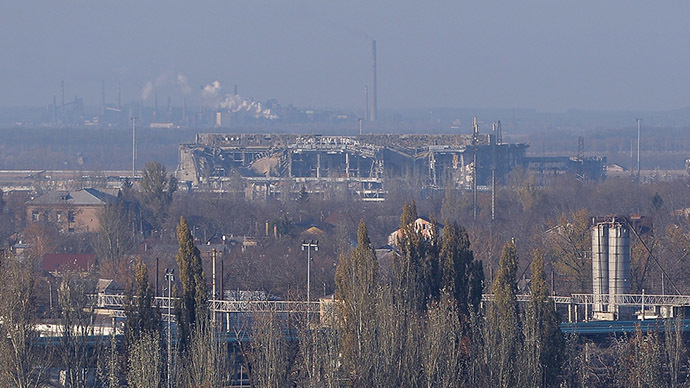 Alexey, a surgeon, believes his patient is one lucky man. If the fragment had hit him in the head, Roman would have been killed. Instead, once the doctors fix his wounds and replace his missing teeth with dental implants, he will be free to go and recover at home.

Fifteen more people with similar injuries have been hospitalized in Donetsk Municipal Hospital No.1. Over the last six months, surgeons have operated on over a hundred militias and about as many injured civilians.

No one checks the militants' names or passports. To be admitted into hospital, they only need to make their call sign known.

"The doctors have received no money for two months. Kiev has refused to pay their wages, while Donetsk authorities have yet to tackle this," says Alexey.

His office is full of icons. "These are the gifts of my patients," he explains. In fact, there are icons on the walls everywhere in the hospital: in the wards, corridors, and examination rooms.

"Those who have been to war and those who haven't are poles apart. Even their sleep pattern is different: they can't sleep in silence. We wish we had psychologists to help both the injured and the doctors, but we don't."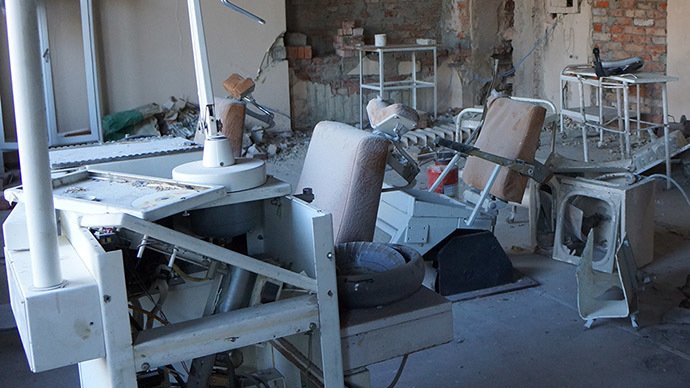 "We were never trained to treat blast injuries. We only used to deal with miners and workers. So we had to think on our feet. The medicines that we get are supplied by charities, because Kiev no longer supports our hospital. Now we depend on humanitarian aid for everything," says Alexey.

"We've seen quite an array of injuries over these months, too. First there were gunshot wounds, then blast wounds. We also had to learn to do these types of surgeries very quickly."

"The worst injuries are inflicted by cluster bombs," he says, adding that doctors have their own scale of injuries depending on the fragmentation pattern and where the patient was at the moment of injury. But the doctors lack both time and qualifications to make reports and keep statistical records.

"I still keep the first bullet I removed. It's a caliber of 5.45mm," the surgeon says.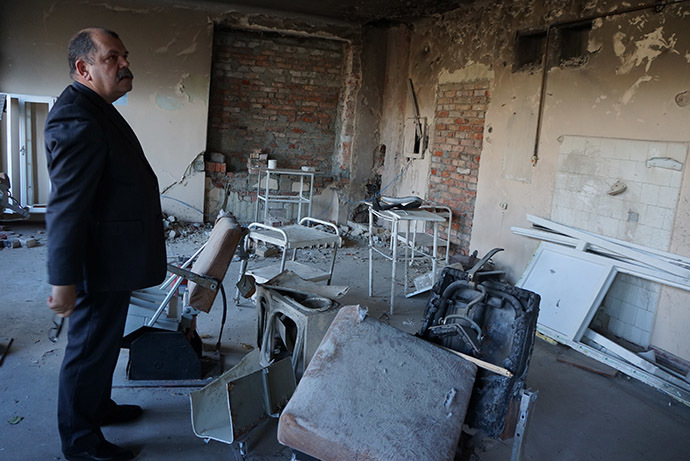 Igor Bugorkov, the head of the regional dental center and an oral surgeon himself, shows me a room that suffered a direct hit on August 7. The window frame has been since filled with bricks – they won't buy a new frame anyway. All they can to do is wait for one as part of humanitarian aid.

"The shelling started at 10 am. We were lucky that the first two mines didn't reach the hospital, and we had the time to evacuate the patients and the personnel. So only two people died," says the chief doctor.

The postmortem unit lost 25 windows. Another mine landed in the yard of the 18th hospital and the explosion shattered every window in the institution although it doesn't look that way. The 21st hospital is located near the airport and is currently under fire but continues to operate.

He showed me the basement where during the fierce fighting they set up bunk beds for patients among the engineering systems, with doctors on duty around the clock.

The last time staff were paid was in August.
"Since August 30, the hospital has been part of the healthcare system of the Donetsk People's Republic, and Kiev put a lid on everything – salaries and medicines. We just rely on the leftovers and humanitarian aid," explains the surgeon.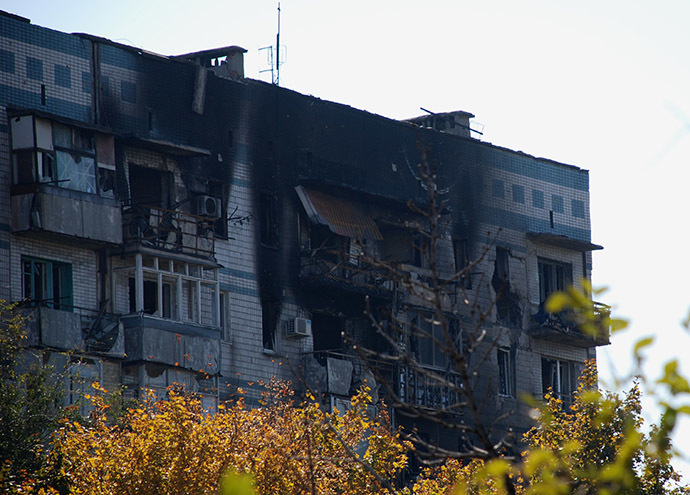 They get help from some of the field commanders, the Red Cross, and Doctors Without Borders. Catering is on credit. But you can't get medicines on credit. Yet we manage to get by," says Dr Bugorkov.

After the first heavy shelling, 300 personnel resigned, bringing the staff down to 1,900. Those who remain don't blame those who left, but don't consider their work to be anything extraordinary.

Initially, the authorities of the Donetsk People's Republic fired all the hospitals' heads, but then asked them to return to their posts. Vladimir Sovpel, the head of Hospital No. 1, 77, was fired, too, but has now been approached to serve as an aide to the government.

Some newly-appointed officials continue to threaten the doctors when they bring up the pay or medicines issue. "If you stick your neck out, we are going to fire all of you – there are hundreds of unemployed doctors out there, so treat the wounded and don't ask questions," a senior official was quoted as saying.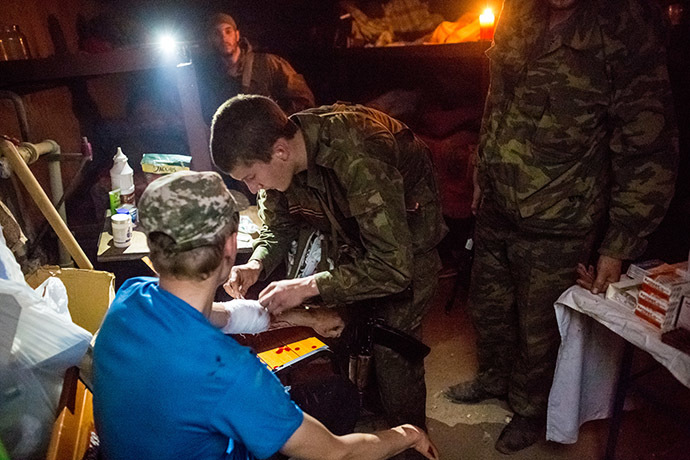 "There are talks underway to unblock our bank accounts. We only have one bank up and running in our part of the Donetsk Region, that's Oschadbank. But we had accounts with commercial banks. Kiev recently promised to provide salaries, medicines, power and food, but will they deliver? That's a big question," muses Igor Bugorkov.

Russia helped the medical workers once by handing out 1,000 hryvnas (or around $100).

Bugorkov says he can't really complain. It's much worse in the rural areas, he adds. The region's new leadership promised to raise pay from 1,200–2,700 hryvnas ($110–300) to 3,000–5,000.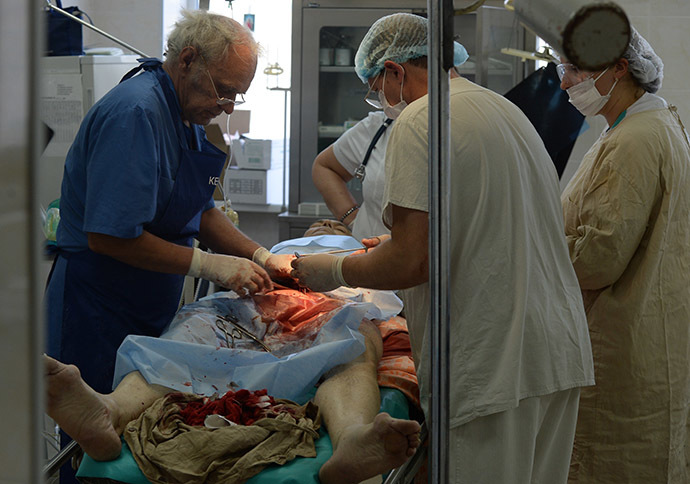 "Let's wait and see," says Bugorkov. He has icons with Orthodox saints all over his room. Otherwise, the setting looks modest. Above his head is the icon of the patron saint of dentists.

We go out for a walk into the park around the hospital. The staff are burning autumn leaves, with the nurses and patients raking them in from the lawns.

"For the first time this year we weren't able to remove the leaves. We don't have the cars, and so burn them. Otherwise, it'll turn into a mess next spring. It's a voluntary effort," the doctor stops near a crater in the asphalt.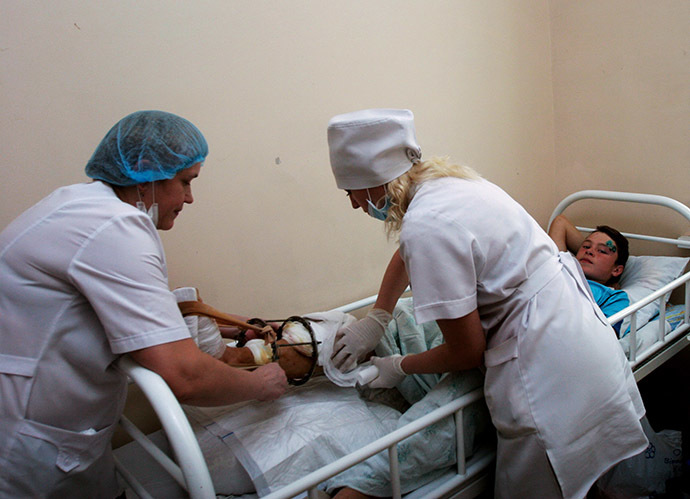 "That's where the first mine landed that saved our hospital. We heard the loud noise and ordered an evacuation. The second clipped the crowns of the trees, and we had to cut them down," he says, pointing to mutilated tree trunks and shrapnel-ridden walls in the neighboring buildings.

"I am sure they didn't mean to hit the hospital. They didn't target anything, for that matter. The military equipment on both sides is outdated. Nearby we have a military base and a dorm for the militia," explains the doctor.

"There's no more abhorrent a sound than a military jet flying really close to the ground at full speed. It's part of the intimidation tactics, they say. It's like a metal on metal sound."

With that, the doctor says goodbye and goes back to his hospital, looking at its shattered windows.


Jean Flight, Donetsk
You can share this story on social media: