'No harsh phrasing': No 'shirtfront' from Australia PM on Putin at APEC encounter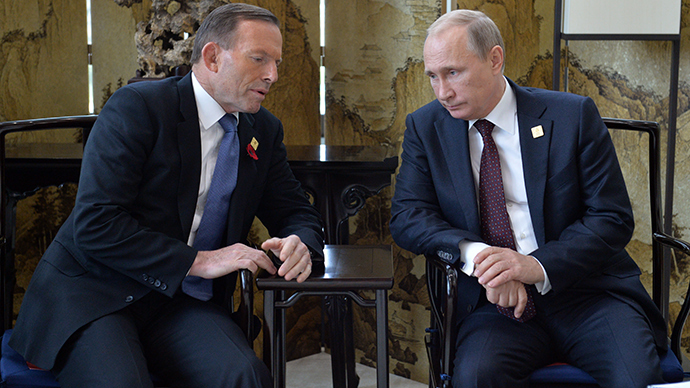 The Russian and Australian leaders have discussed the crash of Malaysian Airlines MH17 on the sidelines of the APEC summit in China. Despite a previous promise to act tough, PM Abbott has abstained from physical force against President Putin.
"The leaders have quite resolutely called for a genuine investigation of the causes of the catastrophe [of the MH17 flight], Putin's press secretary Dmitry Peskov told journalists.
MH17 was shot down over eastern Ukraine, claiming lives of everyone on board, 298 passengers and crew, among them 38 Australian residents. Abbott has stated on more than one occasion that in his opinion that Malaysian Boeing was shot down by pro-Russian rebels in Ukraine's Donetsk Region.
Peskov said that both leaders have spoken in favor of speeding up the investigation process and condemned the situation when experts are unable to get to the crash site because "Ukrainian [government] units are shelling the site."
In the course of the conversation President Putin stressed that Russia has always insisted on "an unbiased, quick and effective investigation," Peskov told journalists.
Ahead of the upcoming APEC summit, the Australian PM made a controversial statement about dealing with Putin in a rough way once they meet.
"I am going to shirtfront Mr. Putin – you bet I am – I am going to be saying to Mr. Putin 'Australians were murdered. They were murdered by Russian-backed rebels,'" Abbott said.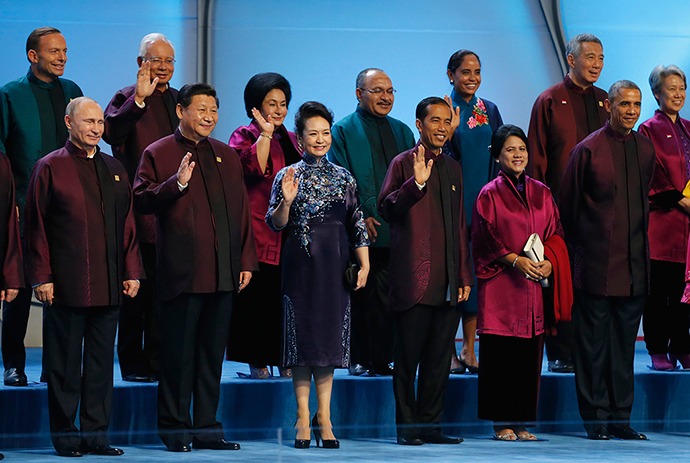 Shirtfront is an illegal technique in Australian Rules football for a front-on chest bump or rough handling aimed at knocking your rival backward to the ground.
Dmitry Peskov specifically stressed that the Putin-Abbott interaction went on "without harsh phrasing" and that apparently Abbott "has not attempted" to shirtfront Putin.
Abbott's contentious remark came on October 13 when he told journalists that the Russian president would not be able to avoid a man-to-man talk on the sidelines of G20 summit, which the PM will host in Brisbane on November 15-16.
But the historic meeting that could potentially end up with a brawl has taken place even earlier, at the APEC forum in China.
No bilateral talks between Putin and Abbott were scheduled for the APEC summit, Peskov stated several days ago. Still, just before the forum in China's began, the Australians requested a meeting of the two leaders, which took place on Tuesday.
Peskov noted that so far Putin's contacts with world leaders have been brief and have taken place during short breaks at the Beijing summit. The Russian president has so far managed to discuss issues with leaders of Australia, Indonesia, the US and Vietnam.
You can share this story on social media: