Australian election: Landslide victory for Abbott, Assange may miss out on Senate seat
The Liberal-National coalition's Tony Abbott has won by a landslide, bringing Labor's six-year rule to an end. The two parties were far ahead of everyone else, with Julian Assange's WikiLeaks Party receiving only one percent of the vote.
As his supporters shouted his name, Prime Minister and Labor leader Kevin Rudd addressed his supporters, saying that "I know that Labor hearts are heavy across the nation tonight. As your Labor leader I accept it as my responsibility." 
The polls, released an hour before voting ended, already showed the conservative leader Abbott's huge lead over Rudd. The latter had returned to take up that post in June after being dumped by his own party in 2010. He replaced the country's first female PM and former Labor leader, Julia Gillard, under whose leadership the party had suffered crushingly negative opinion polls.

The win puts an end to the country's first minority government since World War II.

Voters had started to defect from Labor over disagreements on policy matters, and the party's frantic attempts to bring voters back could not halt the conservatives. Rudd attempted to appeal to undecided voters on Friday, in order to close the gap.

Both candidates faced difficulties on the campaign trail, with the leader Abbott having to be whisked away by security at one of the events when he was threatened in Sydney. Rudd was likewise disrupted by angry protesters in his home city of Brisbane. They took issue with the PM's stance on asylum-seekers. Although both candidates promised to be harder on that front, it is a bigger political issue for the majority of the blue-collar Labor voting group.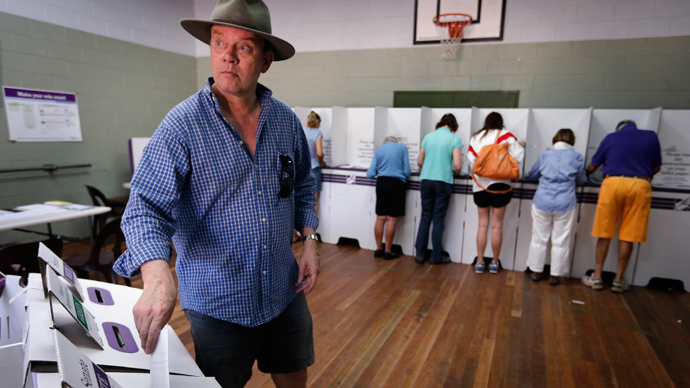 Their current plan is to have all refugees arriving by boat in Papua New Guinea resettled there. Abbott in the meantime promised to conduct military operations to root out human traffickers, as well as operating a temporary-visa system for those asylum seekers already granted refugee status. Both parties faced huge criticism from human rights groups, as well as the UN.

The economy was probably the biggest issue on the agenda, with analysts predicting that voters were ready to reject Labor, especially in the light of its carbon tax policy, which ironically had propelled Australia to a world lead amongst countries battling climate change.

Voters in this election were said to want a smaller government that would reduce national debt and give Australia a new focus on domestic policies.

Abbott complained of a "hung Parliament" under a "weak and divided" Labor.

No Senate seat for Assange?

With over 96 percent of polling places already counted, the Wikileaks Party has claimed a little more than 1 percent of the vote, which will most probably not win a seat in the Senate even after the vote counting is completed in a couple of days.

First, according to ABC's calculations, Assange's party is not expected to get any preferences from most minor parties as preferences had been swapped amongst themselves. This means the WikiLeaks will hardly reach the required quota.
Moreover, in the state of Victoria where Assange was listed as a candidate, a total of 39 parties ran for Senate. The complex vote system counts not only who comes first in the race, but also considers second, third and other places. So far Assange is rated the seventh which will hardly be enough to secure him a seat.
All the way from Ecuador's London embassy, an embattled Julian Assange tried to lead a campaign for his WikiLeaks Party in order to bring "transparency, accountability and justice" to Australian politics.

On July 25, Assange declared he was running in the elections for the Australian Senate and launched the Australian WikiLeaks Party.

The party aims to serve as an independent watchdog, keeping the Australian government accountable to the public, he said. "My plans are to essentially parachute in a crack troop of investigative journalists into the Senate and to do what we have done with WikiLeaks, in holding banks and government and intelligence agencies to account," Assange said.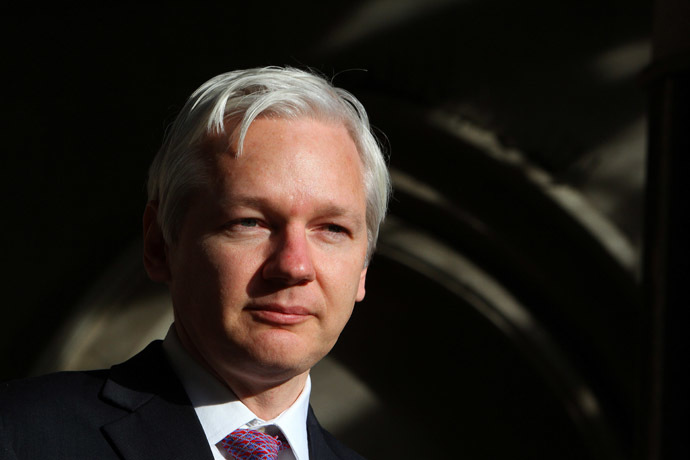 Success at the polls would have guaranteed Assange a Senate seat. However, the UK government said that, in accordance with the European arrest warrant issued against the WikiLeaks leader, he would be detained once he leaves the Ecuadorean Embassy.

Assange has been holed up in the compound since June 2012, pursued the world over by Western intelligence and security agencies hoping to prosecute him for starting a worldwide movement dedicated to leaking classified Western government secrets and exposing the truth behind their motivations. He currently faces extradition to Sweden on what is widely believed to be trumped-up charges for his activities with WikiLeaks.

His father, John Shipton, who helped with the formation of the WikiLeaks Party, told AFP that "there are many Australians who support us."

However, recently the party's progress has been marred by bad luck, with a number of resignations affecting its position in the election.  

Despite this, the popularity of Assange's fight against the establishment has taken the world by storm, with many figures emerging, such as Edward Snowden and Bradley Manning, both of whom have suffered for their beliefs at the hands of their native US government.

A movie about WikiLeaks and Julian Assange, staring British actor, Benedict Cumberbatch (portraying Assange), has opened to critical acclaim at its world premiere at the Toronto Film Festival, garnering a long standing ovation. 
Assange has also appeared on his own show on RT, interviewing controversial leaders and human rights advocates by Skype, from his hideout at the Ecuadorian embassy.