'No stopping' more Snowden revelations – Assange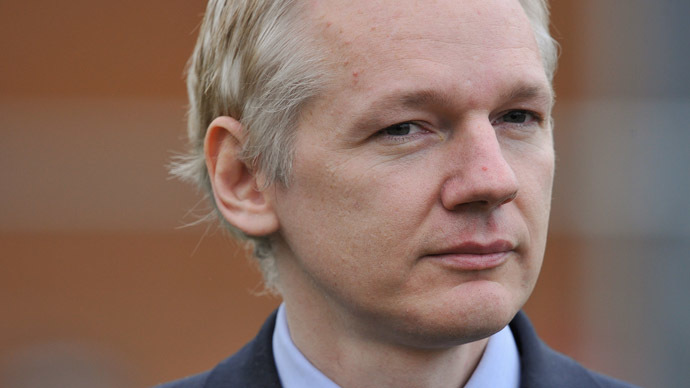 NSA leaks will continue to be revealed, WikiLeaks founder Julian Assange has warned the US government, no matter what happens to Edward Snowden, who is stuck in diplomatic limbo in Russia as he is seeking asylum in Ecuador.
Assange warned that measures have been implemented to hinder any attempt by Washington to try and stop the publication of more classified material.

"There is no stopping the publishing process at this stage," he told ABC News program 'This Week,' from the confinement of the Ecuadorian embassy in London, where he has been holed up after Quito granted him political asylum.

"Great care has been taken to make sure Mr Snowden cannot be pressured by any state to stop the publishing process," Assange added.

He had also compared the fate of the 29-year-old Snowden to his own, calling the NSA whistleblower a "hero."

"He has told the people of the world and the United States that there is mass unlawful interception of their communications, far beyond anything that happened under Nixon," Assange said of Snowden.

According to Assange, WikiLeaks helped Snowden obtain refugee travel documents in Hong Kong that could help decide Snowden's fate as he is struggling to leave the transit area at a Moscow airport after the US revoked his passport. 
Snowden who asked for asylum in Ecuador is awaiting the decision from the authorities. For now he remains in Moscow in a "a very sensitive" situation, according to the WikiLeaks founder. On this matter Assange said, "It's a matter of international diplomatic negotiations, so there's little that I can productively say about what is happening directly."

Assange also hinted that by barricading Snowden in Moscow, the US had given the Russian intelligence services the opportunity to exploit NSA information. "Is that really a great outcome by the State Department?" Assange asked.

But the road to asylum should be strait forward, Assange said as the request is not criminal, despite the espionage charges Washington indicted him with.

"He has acted in a manner to draw attention to a very serious problem in the United States, where, without the will of Congress, without the will of the American population, we now have a state within a state, we have the transnational surveillance apparatus," Assange said.
 
In regards to potential harm that the revelation of US classified material could cause, the Australian said that "no one from any government says that any of our revelations in the past six years has caused anyone to come to physical harm."

Also on Sunday, The Ecuadorean president, Rafael Correa, told the Associated Press that Snowden would not be able to leave Russia without his US passport. Correa also criticized Ecuador's consul for issuing Snowden with a safe passage letter that was allegedly used on a journey between Hong Kong to Russia. Correa also stated that if Snowden violated US laws he should be held responsible, adding that the case was "not in Ecuador's hands".

You can share this story on social media: