Snowden's father: My son may return to US, being manipulated by WikiLeaks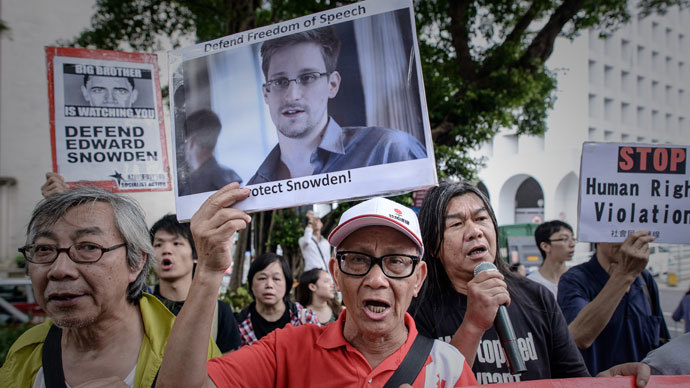 Edward Snowden's father says his son could return to back to the US if certain conditions are met, NBC reports. Snowden wants to remain at large before trial and choose where it would take place. The father insists his NSA-leaker son was manipulated.
Edward Snowden also would like prosecutors not to file a so-called gag order, which bans information or any comments from being made public, Lonnie Snowden said.

The channel reports Snowden Snr. intends to send a letter to the US Justice Department and attorney General Eric Holder through his lawyer later on Friday.

Lonnie Snowden, who has not spoken to his son since April, believes his son was manipulated by third parties, including WikiLeaks. 
"I think WikiLeaks, if you've looked at past history, you know, their focus isn't necessarily the Constitution of the United States. It's simply to release as much information as possible," Snowden Snr. told NBC's Today.
Edward Snowden, a former CIA employee and ex-staff member of a private contractor working for the NSA, fled the United States to Hong Kong in May prior to disclose secret documents about US surveillance.

Snowden was charged with espionage by US federal prosecutors on Friday and currently remains in Moscow's Sheremetyevo Airport transit zone after he left Hong Kong for Russia. 
There have been reports that Snowden was supposed to head to Havana, Cuba, and then to Ecuador, which is considering to approve him political asylum.  

But Ecuador says it cannot grant asylum to Edward Snowden until he reaches "any of its diplomatic premises," i.e. the country itself or the embassy.

"For that to happen a country would have to allow him to enter its territory, which has not come about yet," Ecuador President Rafael Correa said at a news conference in the Los Rios province.

However, entering Ecuadorian soil, including the embassy in Moscow is now impossible for Snowden. The US government has revoked his passport, meaning he neither has a Russian visa nor can he buy a new flight ticket to Ecuador or Havana, a second transit point.

Officials have confirmed that on June 22 the Ecuadorean Embassy in London had issued a letter of safe passage for Snowden that called on other countries to allow him to travel to asylum in Ecuador. But the letter was said to be invalid because it was issued without the approval of the government in the capital, Quito, according to Secretary of Political Management Betty Tola.

You can share this story on social media: