'It's called a koala, Tony': Twitter explodes after Abbott trades 'shirtfronting' Putin for cuddly joint pic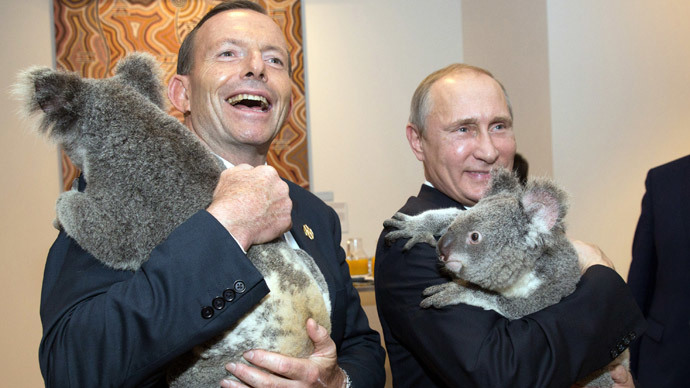 Twitter users have had a field day with Australian PM Tony Abbott's claim that he would "shirtfront" Vladimir Putin at the G20 summit over the MH17 crash – because the leaders' face-to-face encounter actually resulted in a...koala cuddle.
Yes, that's right. Social media is abuzz with photos of Abbott and Putin snuggling up to the world's cutest marsupial, even though previous statements had almost guaranteed that a scuffle was in the works.
When the soft, furry critter sunk its claws into Putin's suit, the Australian PM seemed to feel quite soft and fuzzy inside himself; a smackdown shoulder charge appeared to be the last thing on his mind.
Abbott's remark came back in October, after he told journalists that he would "shirtfront" the Russian president on the sidelines of the G20 summit over the MH17 tragedy.
"I am going to shirtfront Mr. Putin – you bet I am – I am going to be saying to Mr. Putin [that] Australians were murdered, they were murdered by Russian-backed rebels," Abbott said.
READ MORE: Aussie koalas trained for cuddles with Putin, Obama & Merkel at G20
Twitter users wondered why the promised "shirtfront" was nowhere to be found.
So that's what a shirtfronting looks like. #G20Australia#DropbearDiplomacy#shirtfront#G20pic.twitter.com/4ESyTZZWvy

— Jane Wardell (@TheJaneWardell) November 15, 2014
"Am I going to give Putin a cute koala to cuddle? You bet you are...you bet I am." A man of his word. #auspol#G20pic.twitter.com/roOuPD5e8m

— News Australia (@NewsAustralia) November 15, 2014
Abbott explained to Putin that a #shirtfront means hanging out with Koalas #auspol#G20Brisbanepic.twitter.com/LOhUkLYnVY

— Quiet_Please (@Quiet__Please) November 15, 2014
#Abbott and #Putin spend Koala-T time together... #G20#G20Brisbane#summit#auspol#shirtgate#shirtfrontpic.twitter.com/SIYpOsHQFW

— Leslie Baul (@singingbaker) November 15, 2014
Australian PM Tony Abbott delegates shirtfronting to the koalas. #G20Brisbane#Putin#shirtfront#koaladiplomacypic.twitter.com/SDaJ1fvlUU

— Haidi Lun 伦海迪 (@HaidiLun) November 15, 2014
'Shirtfront' is a football term for a front-on chest bump or rough handling aimed at knocking a rival backwards to the ground. It is a "reportable offence and considered illegal," according to the Australian Football Rules website.
Abbott has faced his fair share of criticism both online and in the media lately. Most recently, he came under fire for stating that before colonization in 1788, the country was "nothing except bushes" – apparently forgetting about the country's indigenous peoples.
Meanwhile, the only "shirtfronting" to take place happened on Friday at the official greeting for the G20 summit in Brisbane – but it wasn't by Abbott; it was by Canadian PM Stephen Harper.
Putin approached the Canadian PM with his hand extended, which Harper shook while simultaneously accusing Putin of sending troops to Ukraine.
"Well I guess I'll shake your hand, but I only have one thing to say to you: you need to get out of Ukraine," Harper said, as cited by his spokesman Jason MacDonald.
According to the Kremlin's press service, Putin's reply was that "unfortunately it is impossible – because we are not there."
Who knew "#shirtfront" was Russian for "group hug with koalas" #G20 ?

— Simon Banks (@SimonBanksHB) November 15, 2014
Western media is closely following every step of the Russian president at the G20 summit. After his meetings with British PM David Cameron and France's President Francois Hollande, Reuters cited "an unnamed source in the Russian delegation" claiming that Putin planned to leave the summit early after Western leaders' pressure over the Ukraine crisis.
Russian presidential spokesperson Dmitry Peskov denied those reports, saying they were simply wrong.
"The G20 summit ends tomorrow [on Sunday] and Vladimir Putin will surely leave it – when all the work is finished," he told Kommersant FM radio.
You can share this story on social media: