'If you don't love it, leave': Social media blasts Aussie supermarket's 'racist' singlet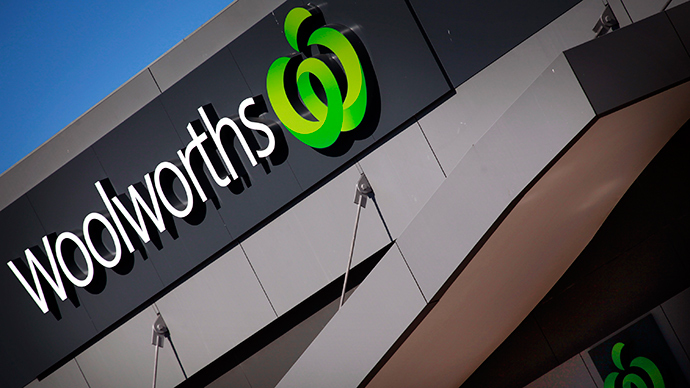 Australian supermarket chain Woolworths has apologized for "inadvertently" putting on sale a singlet bearing the slogan, "If you don't love it, leave" alongside an Australian flag. Social media had exploded with outrage at the slogan, calling it racist.
The scandalous singlet was noticed by Canberra man George Craig who was in Cairns, a regional city in the far north of Queensland, in the northeast of the country.
"I was with a bunch of blokes on a footy trip, not one thought it was appropriate," Craig told the Australian Broadcasting Corporation. "We were genuinely shocked, not just that the sentiment still exists, but that such a huge company with huge reach across a diversity of communities would stock the product."
He posted a photo on Twitter on Monday and wrote, "Cairns, selling racist singlets for everyday low prices!" which immediately went viral in social media.
@woolworths cairns, selling racist singlets for everyday low prices! #racistpic.twitter.com/1buKHxifV8

— george craig (@heartsR4love) October 12, 2014
"I'm outraged that Woolworths are allegedly selling these bigoted singlets at their Cairns stores," wrote one user.
"I won't be shopping at Woolworths while they sell racist T shirts. @TonyAbbottMHR you have much to answer for," posted another.
Woolworths' official website wrote an apology, saying that the company's stores were "inadvertently" stocking a singlet "that [they] consider totally unacceptable."
"This singlet was not one we ordered – it was delivered to us in error and should never been allowed on our shelves. We're going to review our processes to ensure this sort of error cannot happen again," added the statement.
The company said that as soon they noticed the singlet, it immediately withdrew the product from shelves.
"The sentiment expressed on the singlet does not reflect the views of Woolworths. Woolworths has a policy of 'Doing the Right Thing' which means we believe in fostering an environment where everyone is treated with dignity, courtesy and respect."
.@woolworths, why is your Cairns store dabbling in race hate and extreme nationalism? pic.twitter.com/WfrSLEGXk0

— Jarah Crook (@jarahcrook) October 13, 2014
Adam Bandt, deputy leader of the Australian Greens, also commented on the racist epithet.
"Woolworths in Cairns are reportedly selling these singlets (tweet from George Craig, @heartsR4Love). Divisive and ridiculous -- these should be pulled immediately. Team Bandt," he wrote on Facebook.
In January 2014, Aldi, a leading global discount supermarket chain, also apologized and removed its T-shirts saying "Australia Est 1788". They drew harsh criticism for disregarding the existence of the country's indigenous population.
Demanding people MUST love #nationalism & MUST love the country they live in OR leave is a hallmark of #fascism, not #democracy#woolworths

— Kim Bullimore (@rafiqa65) October 13, 2014
I won't be shopping at #Woolworths while they sell racist T shirts. #BoycottWoolworths@TonyAbbottMHR you have much to answer for. #auspol

— Apocalyptic Dame (@muso1947) October 13, 2014
Abbott & #Woolworths put #shirtfronts on agenda today. At least Woolies had the grace to withdraw #Boganistan#auspolpic.twitter.com/9DMlXT82en

— Michael Dawe Esq (@Diddoms) October 13, 2014