'Fascists, get out!' Spanish students eject protesting Ukraine nationalists (VIDEO)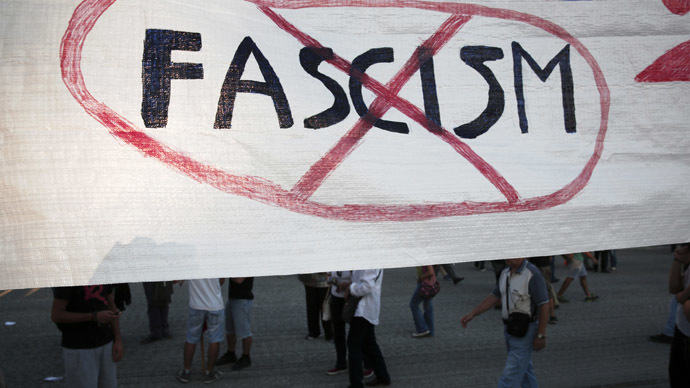 Students at the Complutense University of Madrid kicked out several radical Ukrainians who stormed into a lecture, trying to provoke a fight. Posters reading, 'Ukraine besieged by fascism will not happen,' appeared in campus halls after the incident.
The university faculty of political sciences and sociology is currently hosting an exhibition titled, "Humanitarian crisis in southeastern Ukraine and its consequences for Europe," which features photographs from Odessa, and the Donetsk and Lugansk regions. The display is part of a series of lectures and roundtables on the situation in Ukraine.
While students were gathering for one of the discussions, on the subject of the May 2 Odessa massacre, that left nearly 50 anti-government activists dead, several radicals carrying Ukrainian flags and banners of some of the country's nationalist parties stormed into the hall, not letting professors begin the lecture.
The skirmish was filmed and posted on YouTube.
According to Spanish newspaper La Republica, the protest was carried out by a group of supporters of the neo-Nazi Svoboda (Freedom) party. Chanting the name of Stepan Bandera, leader of Ukrainian nationalist movement during World War 2, the protesters threatened and assaulted several students who had gathered to remember the victims of the events in Odessa.
"At first professors asked them to leave the room, but they wouldn't do so, saying they would not let the lecture begin. Students were outraged by that and started shouting 'Fascists, get out of here!' Almost half the faculty got involved," one of the exhibition's organizers, Sergey Markhel, told RIA Novosti news agency.
After the fight's instigators were kicked off of the campus, students put up posters against fascism in Ukraine.
Leaving the university premises, still waving Ukrainian flags, the offenders were seen by a van with the registration of the Diplomatic Corps of the Ukrainian Embassy in Madrid, La Republica reported.
The event was attended by a representative of the Ukrainian Embassy, the embassy confirmed to RIA Novosti.
The Ukrainian Ambassador to Spain has later met with the university rector, expressing his "deep concern" and asking him to cancel Ukraine-related conferences, which he claimed were being "used by Russian propaganda agents to give false information," El Pais reported.
The conference on the Ukrainian crisis is scheduled to run at the Complutense University until October 23.