Remember Odessa: Protesters across Europe recall May 2 massacre
People across Europe held protests in memory of the May 2 tragedy in the Ukrainian city of Odessa, in which nearly 50 anti-government activists died in a building set ablaze by radicals. Hundreds in Odessa decried the lack of justice for the victims.
READ MORE: 38 minutes late: Report reveals firefighters' delayed response to deadly Odessa blaze
Marches and pickets took place across major European cities, including Riga, London, Berlin, Rome, Dublin, Zurich, Madrid, Barcelona, Vienna, and Lisbon.
Tragic Anniversary, 4 months from the: Odessa Massacre Still no justice http://t.co/ns99hDJaD3#Odessapic.twitter.com/CYCACii7LK

— Robin Monotti (@robinmonotti) September 1, 2014
In the Latvian capital of Riga, around 200 people came out to remember the victims. The demonstrators gathered in front of the Ukrainian embassy and carried black balloons which read, "Never again" and "Remember Odessa."
The protesters called for a fair investigation, as well as for an unbiased perception of the crisis in eastern Ukraine from Latvia's government.
"We expect a change of rhetoric from the Latvian authorities. They should stop repeating propaganda clichés taken from Ukrainian news agencies and be more restrained in their behavior in this regard," said Miroslav Mitrofanov, co-chairman of the Russian Union of Latvia.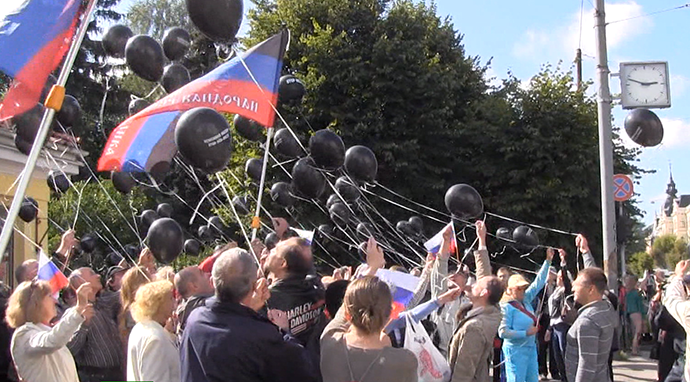 Riga residents welcomed the march, Mitrofanov added. "Bystanders joined in, cars honked in support. We felt welcomed and supported," he said.
In Denmark, around 25 people came out to the streets of Copenhagen to commemorate the victims.
READ MORE: Odessa massacre victims died in seconds, not from smoke – emergency service chief
"We have a mixed company – Ukrainians, Russians, Latvians, and others. Danes are also among us, they are very active," Svetlana Mostovaya, a board member of the Danish-Russian dialogue group, said.
Germany: "Stop Nazis in Ukraine" say activists on Odessa anniversary https://t.co/E7JzkrQYkL

— WeatherPlanet (@WeatherPlanet) September 2, 2014
In London, activists signed a petition addressed to the Ukrainian embassy, calling for a thorough investigation of what happened in Odessa on May 2.
Meanwhile, in Rome, activists proceeded with an unsanctioned protest after failing to receive a permit from local authorities, organizer Sergey Seregin said.
"We were around 20 people in total, including both immigrants and Italians. Kids took part in the action. Everything was peaceful," he added.
More than a dozen activists came out in Zurich, holding black balloons.
Earlier on Saturday, an international photo exhibit titled 'Odessa Massacre,' which conveys the events of May 2, was shown in Frankfurt, Germany as 500 people gathered to protest the North Atlantic Treaty Organization's (NATO's) policies.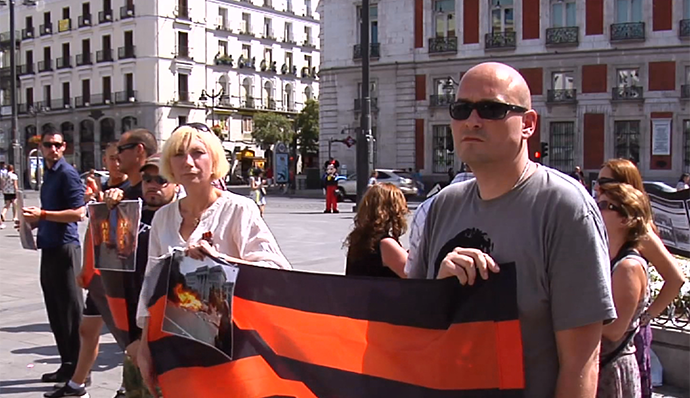 READ MORE: Odessa slaughter survivors reveal their side of story in intl photo exhibit
The exhibit had also been shown in Belgium, Spain, Serbia, Bulgaria, Romania, the Czech Republic, Poland, Hungary, Slovenia, the United Kingdom, Ireland, and India.
Odessa demands justice
Meanwhile, 400 people came out in Odessa to remember the massacre and demonstrate against the lack of actions on behalf of local authorities to bring the perpetrators to justice.
The protesters carried signs stating: "We remember – We won't forgive." People lit candles and released black balloons which read "Remember Odessa" into the air to commemorate the victims of the massacre.
"The investigation has been ongoing for four months, without any results. Those responsible are being let go, while the innocent people are being locked up in prisons. Odessa's people do not agree with this," the organizer of the Voice of Odessa group, Svetlana Naboka, told RIA Novosti.
Двигайте хэштэг #Одесса #Русскийгородpic.twitter.com/8MZ8KRjMFQ

— Летиция (@linaiolanda) September 2, 2014
READ MORE: Odessa mourns bloodshed victims, activists demand 'murderer' governor's resignation
According to the activist, local police attempted to prevent the protesters' voices from being heard, removing a loudspeaker used by them. This caused a brief confrontation with officers, who she claimed beat some of the activists attempting to block a police vehicle carrying the equipment away. The protest, however, went on peacefully.
"We want to show that people should not be afraid no matter what," Naboka said.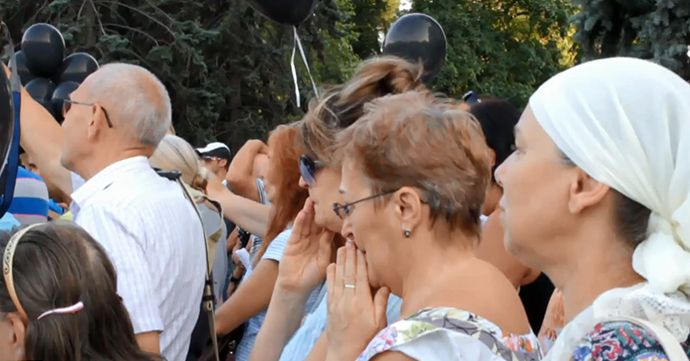 On May 2, violent clashes erupted in Odessa between rival rallies of anti-government protesters and radicals supporting the coup-imposed Kiev government.
The confrontation led to a tragedy that left some 50 people dead and about 250 injured, as nationalists burnt a protester camp and then set fire to the Trade Unions House with anti-Kiev activists trapped inside.
The actual death toll could be much higher, as many of those who managed to escape the flames were then either strangled or beaten with bats by radicals, according to numerous witness reports.
READ MORE: Odessa slaughter: How vicious mob burnt anti-govt activists alive (GRAPHIC IMAGES)
You can share this story on social media: