Aussie koalas trained for cuddles with Putin, Obama & Merkel at G20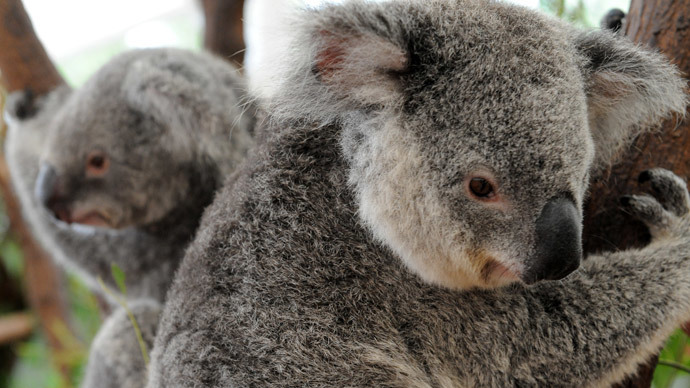 The world's cutest marsupials are being specially prepared for cuddling sessions with world leaders during the G20 summit in Brisbane next week.
Holding a soft, furry koala has become a bucket-list attraction of any trip Down Under, and Vladimir Putin, Barack Obama and other leaders of the world's 20 most powerful countries are scheduled to have photo-ops with the animals during the two-day summit.
But the endangered marsupials, which sleep for up to 20 hours a day and feed on a diet of special eucalyptus leaves, are notoriously fussy. Hence, the training ahead of the high-status visit.
"As young trainees, koala cuddles are limited to just 10 minutes a day, graduating to no more than half an hour a day as adults. Even then, after three days of cuddles, it's time out for the koalas and a cuddle-free day before returning to work," said Karen Nilsson, head koala-keeper at the Lone Pine Koala Sanctuary – the world's first reserve for the animals, opened in 1927.
"Koalas spend a lot of their time resting and sleeping, so by limiting it to half an hour, maximum, we are not interrupting their usual routine," she added.
The koalas are unlikely to be overawed by the press scramble, as previous VIP cuddlers have included Pope John Paul II, Soviet leader Mikhail Gorbachev and American pop star Taylor Swift.
"The koalas might take the world leaders more in their stride than some of the handlers," joked Nilsson.
The staff have one piece of advice for all the newbie koala-huggers.
"The number one tip is to pretend you're a tree, that's what koalas are used to. When you hold a koala stay nice and still, give them good support on their bottom so they know they are not going to fall," said Nilsson.
Despite being a symbol of Australia, the only country where they are found, it is thought that as few as 43,000 koalas may remain in the wild, largely due to a loss of habitat and a chlamydia epidemic that has decimated fertility rates among the koala population.
You can share this story on social media: