​Australia urges G20 to continue cooperating with Russia despite US sanctions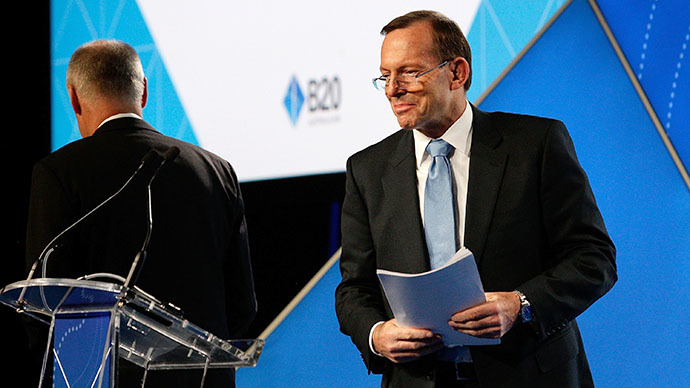 Australia wants Western countries to continue cooperating with Russia within the G20 framework, Prime Minister Tony Abbott said on the sidelines of the B20 summit, after the US and EU agreed new sanctions on Russia.
"The G20 is an economic forum, but not a forum on security issues. Therefore the opportunities for cooperation in the field of economy remain stable regardless of what one country can think of other countries or their actions on the geopolitical arena," Euronews quotes Abbott's speech at the B20 Australia Summit.
The event held on July 16 - 18 in Sydney involves more than 300 business leaders from 48 countries who decide on aspects of the G20 agenda.
"And I intend to encourage the economic cooperation within the G20," the Australian Prime Minister added.
On Wednesday the Obama administration widened the list of sanctions targeting individuals, financial institutions and defense companies which the US believes are involved in destabilizing the situation in Ukraine. However, the EU postponed any additional decisions regarding Russia till the end of July.
This year Australia is hosting the G20 summit in Brisbane in November.
Talking on Thursday in Sydney the Australian PM urged members, the leading representatives of business and experts from G20 countries, to develop specific recommendations and approaches to stimulate the growth of the world economy. Abbott assured that the November summit won't be like "a talk festival", but will be "a short capacious communiqué which will contain clear plans for further common work."
The G20 consists of the group of 19 world leading economies and the European Union. The G20 represents about 85 percent of global GDP, 80 percent of world trade and two thirds of the world's population.
Last year Russia hosted the G20 summit and in 2015 the presidency will pass to Turkey.
You can share this story on social media: