Disney & the beast: Police hunt for tiger on loose near Paris theme park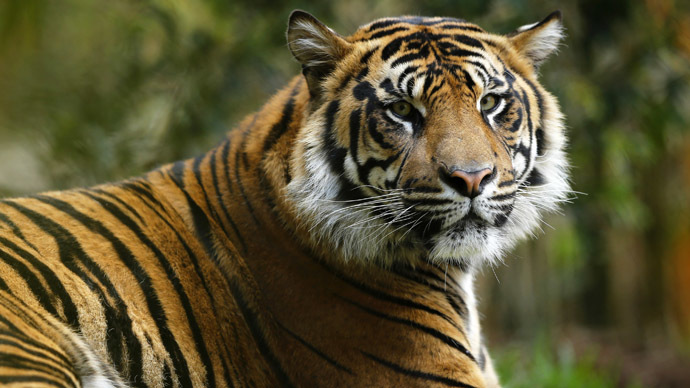 Paris authorities are on high alert after a tiger was spotted roaming the outskirts of France's capital, close to Europe's No. 1 tourist destination –Disneyland. The experts say the beast weights about 100 kilos.
The tiger was seen in the small town of Montevrain just 37 km from Paris and 9 km from Disneyland, which attracted about 15.65 million people in 2013.
"A young tiger was spotted this morning in the woods behind the tennis courts and soccer field," said a statement on Montevrain's Facebook page.
The city authorities also posted a photo of the beast reportedly taken by one of the town residents and urged "to exercise caution and not to walk around the perimeter."
Un tigre en liberté toujours recherché à Montévrain en Seine-et-Marne (Photo page Facebook de la commune) pic.twitter.com/m71tLxLG0a

— itele (@itele) November 13, 2014
"We repeat, avoid walks and travel by vehicle. If you see a tiger, call emergency [services]," said the statement, adding that police and firefighters armed with tranquilizer guns are hunting the predator.
Jean-Baptiste Berdeaux, who has a supermarket in Montevrain, told AFP that his wife "saw it this morning" but first thought it might be "a lynx."
"We have been running after it since this morning, police officers are trying to intercept it," a police source told AFP, "If it's possible, we'll try and put it to sleep. If it becomes dangerous or aggressive, the order will be given to kill it."
"Paris Tiger" is rather little #herekittypic.twitter.com/tFDocRFwZK

— MDS (@mikederismith) November 13, 2014
The experts analyzed the paw prints and confirmed that the tiger weighs about 100 kilos, according to Le Parisien.
A statement from Seine-et-Marne department also warned residents of three neighborhood towns - Montevrain, Chessy and Chalifert – to stay indoors.
The officials refuted the assumption that the tiger might have arrived from a circus that was in the area last week.
"The circus left on Saturday and during the health inspection before the event officials did not notice the presence of a tiger," the mayor's office told Le Parisien.