NSA Firefoxed: Mozilla team-up with Tor to improve internet privacy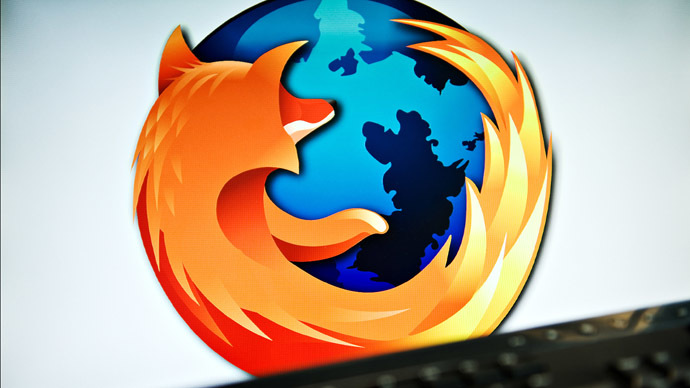 The internet browser Mozilla is teaming up with Tor to give internet users greater security online. The new Polaris project is designed to combat internet censorship and make NSA like intrusion's a thing of the past.
Edward Snowden's revelations concerning the extent of the National Security Agency's spying on the general public, hit computer and internet enthusiasts hard. A poll conducted by Harris Poll on behalf of the internet company Mozilla last month, found that three quarters of those surveyed feel that their personal information on the web is less secure than it was one year ago.
Mozilla, which is responsible for the Firefox browser, which is celebrating its 10th anniversary, is looking to regain the public's trust again by enlisting the help of Tor, which is a popular software tool designed to protect online anonymity. Tor, which is an acronym for 'The Onion Router,' works by bouncing its way randomly around servers, which are manned by volunteers around the globe. This makes it significantly more difficult for surveillance companies to keep track of ones online movements.
Tor has had so much success that one top secret NSA document described it as being the, "the king of high-secure, low-latency internet anonymity," which was reported by the Guardian in October 2013. The agency admits they are at a loss at how to try and decode the identity of a user in response to a specific request.
Denelle Dixon-Thayer discusses Mozilla's goal for ad industry to put the user at the center w/ @MKassan at #dmexcopic.twitter.com/t1569ymw3Z

— Mike Manning (@ravmike) September 11, 2014
Apart from added privacy, Mozilla will also offer a 'Forget button,' which will allow users to not have their browsing history recorded. Users can select to forget the last five minutes, or last 24 hours and leave no trace that they were ever on the internet, the technology news site VentureBeat reports.
Although internet privacy is often a topic of conversation, it is yet to go mainstream; with many ordinary computer users put off by they perceive to be its complex nature to use. However, Mozilla hope the introduction of Polaris will help to change these stereotypes.
"Polaris is designed to allow us to collaborate more effectively, more explicitly and more directly to bring more privacy features into our products," the browser stated on its website. "We want to accelerate pragmatic and user-focused advances in privacy technology for the Web, giving users more control, awareness and protection in their Web experiences. We want to advance the state of the art in privacy features, with a specific focus on bringing them to more mainstream audiences."
Very excited to be working with @Mozilla on its Polaris project to build better privacy controls into web browsers: https://t.co/A2ek0rwOiJ

— Justin Brookman (@JustinBrookman) November 10, 2014
Mozilla has also teamed up with the Center for Democracy & Technology (CDT), which like Tor is a non-profit organization. The CDT's aim is to champion freedom of expression, while also supporting laws, corporate policies and technology tools that give users greater privacy. They are also trying to ensure that tougher regulations are implemented to control government surveillance.
"CDT looks forward to working with Mozilla on the Polaris program and advising on issues like combating Internet censorship and protecting online anonymity, which are vital to promoting free expression online." said Justin Brookman of CDT in an article, which was published by Mozilla's website.
Internet privacy is not optional. Read about Polaris, our new privacy initiative. http://t.co/UoLYi3XkjE

— Mozilla (@mozilla) November 10, 2014
Although Tor has proved to be an undoubted success in terms of providing internet browsing security, one of its downfalls is its speed, especially if a connection is less than ideal. However, this is where Mozilla can help. The browser is looking to combine the best of both worlds – combining Mozilla's speed, with Tor's ability to provide security.
"The Tor Project is excited to join Mozilla as a launch partner in the Polaris program. We look forward to working together on privacy technology, open standards, and future product collaborations," said Andrew Lewman of the Tor Project.
While the main aim of the Polaris venture is to improve internet security, while offering users the chance to browse at high-speed, the designers of the project are also looking at a second feature, which is still in the development stage.
Retweeting some posts from yesterday, I did for #fx10#ChooseIndependent@mozilla_deutsch Happy Birthday Firefox! pic.twitter.com/RxQ7WVyvOZ

— Fux (@mozFux) November 11, 2014
The aim of the second project is to offer improved security, but also not penalize advertisers that respect a user's preferences.
"We're currently testing this privacy tool in our "Nightly" channel. The experiment is promising, but it's not a full-fledged feature yet. We'll test and refine the user experience and platform behavior over the coming months and collect feedback from all sides before this is added to our general release versions," Mozilla said on its website.
Mozilla is one of a number of internet companies that has demanded more transparency from the US government, in the wake of Snowden's allegations of NSA snooping.
In October 2013, they launched a new download that allows users to identify who's tracking their Internet movements.
Dubbed "Lightbeam," the free Firefox extension enables users to see which third party companies are monitoring their online presence, a move that Mozilla states will "illuminate the inner workings of the web."
You can share this story on social media: