Former NSA chief predicts surveillance programs will expand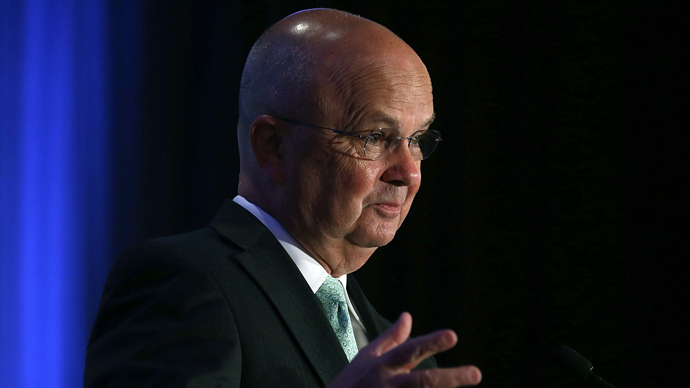 The former head of the National Security Agency said Sunday that not only does ending the NSA's domestic surveillance programs seems unlikely, but he images those endeavors could expand in scope during the coming years.
Former NSA chief Michael Hayden told television host Bob Schieffer of CBS' Face the Nation over the weekend that the current program that collects the metadata of millions of American phone customers on a regular basis for the United States government could in the future perhaps be used to soak up even more statistics about US citizens.
In early June, former NSA contractor Edward Snowden leaked classified documents showing that the US government compels telecommunication companies to hand over telephony metadata — basic user records— for all customers on a routine basis. The intelligence community claims it uses that information in order to track down suspected terrorists by tracing their paths of communication, but Mr. Hayden said over the weekend that in the future those statistics could be queried for different reasons.
"But you got this metadata here," Hayden told Schieffer. "It's now queried under very, very narrow circumstances. If the nation suffers an attack, there are other things you could do with that metadata. There are other tools. So in that kind of an emergency, perhaps, you would go to the court and say, 'In addition to these very limited queries we're now allowed to do, we actually want to launch some complex algorithms against it.'"
"That's the kind of argument that, frankly, even I could accept you might want to have an advocate there," added Hayden, who also served as director of the Central Intelligence Agency under President George W. Bush.
In that same sit-down, Mr. Hayden also suggested that President Barack Obama's recent plans to increase transparency with regards to the administration's use of NSA surveillance programs for counterterrorism purposes could put the country in danger, and decried the possibility of easing back on them.
"He also suggested that the oversight regime for this was already quite good," Hayden said of Pres. Obama. "He pointed out that there have been no abuses under him or under his predecessor. But he does have this issue of confidence, this issue of transparency, so the president is trying to take some steps to make the American people more comfortable about what we're doing. That's going to be hard, because frankly some steps to make Americans more comfortable will make Americans less safe."
"[I]f you look at the commentary on this, folks from the so-called left are a bit uneasy," Hayden added. "They don't want a little more transparency with regard to the metadata program — they want the program stopped."
"I don't think it will be," he said.
Barely one month after the Guardian first published leaked NSA documents attributed to Mr. Snowden, Reps. Justin Amash (R-Michigan) John Conyers (D-Michigan) came a mere 12 votes short of having an amendment passed that would have forced the agency to stop collecting metadata for millions of Americans daily.
"Instead of taking a measure of defeat from what happened in the Amash-Conyers amendment, you should be inspired by that," Kade Crockford of the ACLU of Massachusetts' Technology for Liberty Project told RT earlier this month at the DefCon security conference, "because we came damn close to really putting a dent in one of the most powerful organizations in the history of the world: the US military and their surveillance program."
Shortly after the Amash-Conyers amendment failed, Pres. Obama announced on Friday that he's advocating for reforming the NSA's surveillance programs.
You can share this story on social media: