'Who killed my husband?' Khodorkovsky complicit in murder, widow's book claims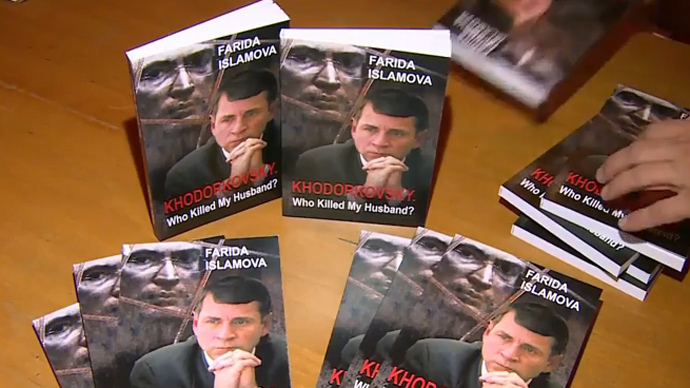 The English version of a widely-read Russian book titled 'Khodorkovsky. Who killed my husband?' was released in Prague on Monday. Written by the widow of an assassinated Siberian city mayor, it implicates ex-tycoon Mikhail Khodorkovsky in the murder.
READ MORE: From megalomaniac to martyr: The media metamorphosis of Mikhail Khodorkovsky
Vladimir Petukhov – the first popularly-elected mayor of oil-rich Nefteyugansk – was shot dead on his way to work on June 26, 1998. The investigation found the killing to have been a well-prepared assassination, coordinated by former Yukos oil company Vice-President Leonid Nevzlin and organized by former Yukos security head Aleksey Pichugin.
While a Russian court sentenced Pichugin to a life term in prison for three murders and four attempted murders, Nevzlin was sentenced to life in absentia, as he escaped to Israel to avoid the charges. Unlike his subordinates, Yukos CEO Khodorkovsky was not charged with murder, but spent 10 years behind bars for tax evasion, fraud and money laundering.
"#Khodorkovsky. Who Killed My Husband?" book by Petukhov's widow blames two #Yukos oligarchs for murder. #Russiapic.twitter.com/TZD0nEYVBC

— Nina Byzantina (@NinaByzantina) November 11, 2014
However, Petukhov's widow Farida Islamova shared her own version of the events surrounding her husband' death, claiming in the June-published book that Yukos head was directly responsible for the assassination.
"There is a man whose name is Khodorkovsky who is telling the whole world that he's not guilty of the murder of Vladimir Petukhov, but the truth is the opposite," Islamova said during the book's English-version launch in Prague.
Islamova argues in the book that Khodorkovsky was aware that "an organized gang of killers was operating under the 'roof' of his Yukos company."
According to the widow, the killing took place following a rift between Khodorkovsky and Petukhov.
"I hold the view that my husband's assassination was only needed for Khodorkovsky," she states in the book.
"The Yukos executives wanted the mayor to have a secret deal with them to cover up the taxes of Yukos oil company," she said in Prague.
Serving as the mayor of Nefteyugansk, Petukhov publicly demanded that Yukos pay due taxes in May 1998.
Only about a month later, Petukhov was shot dead on the date that coincided with Khodorkovsky's 35th birthday.
The book was unveiled at Prague's Globe Bookstore & Cafe, where Islamova gave a presentation, sharing that her life had lost its purpose since the killing.
Russian President Vladimir Putin pardoned Khodorkovsky in December 2013 due to the poor health of the former oligarch's mother.
READ MORE: Ex-oil tycoon Khodorkovsky leaves prison after pardon