Removal of Steve Jobs memorial due to 'gay propaganda' law turns out to be PR hoax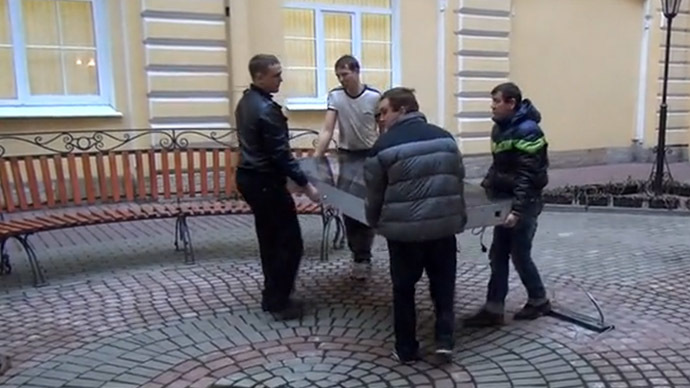 A memorial to the late Apple co-founder Steve Jobs was dismantled in St. Petersburg one day after Apple's current CEO came out as gay. The Russian group that erected it cited the so-called "gay propaganda law" – but it turns out to be more complicated.
The memorial, which was in the form of a giant iPhone, was removed on Friday. It was set up outside a St. Petersburg college in January by ZEFS, a holding of companies.
The move came after current Apple CEO Tim Cook publicly revealed in an op-ed in Bloomberg Businessweek on Thursday that he's "proud to be gay."
In a press release, the company explained the dismantling, citing a Russian law against gay propaganda to minors, Russian media reported.

The law introduced in June last year prohibits the promotion of non-traditional sexual relationships among young people under the age of 18. ZEFS added that the memorial was in an area of direct access for underage students.
ZEFS head Maksim Dolgopolov also cited recent revelations made by former NSA contractor Edward Snowden on US surveillance.
Dolgopolov said that while erecting it, ZEFS believed in the legend of a genius programmer Jobs and did not suspect that Apple was cooperating with the US National Security Agency in its mass spying.
However, it turns out that the firm informed the college's authorities about the removal before Tim Cook's coming out.
The press service of the Saint Petersburg State University of Information Technologies, Mechanics and Optics (ITMO) told local Fontanka.ru news outlet that the university received a letter stating that memorial would be taken to fix its sensor screen before Cook's coming out.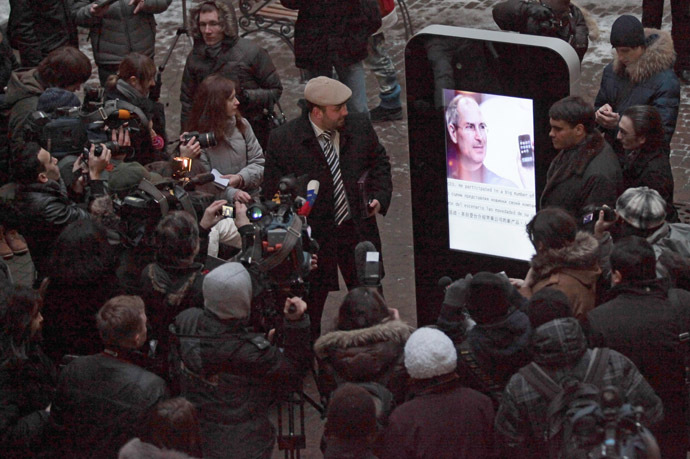 The students of the college also confirmed to Fontanka.ru that the device was malfunctioning.

Meanwhile, the head of the company that owns the memorial reportedly said that he is not against reinstalling the piece if it would be possible to use the phone memorial to "send a message to the US rejecting the use of Apple devices."
You can share this story on social media: