Mistral deal: France says delivery of warships to Russia still on hold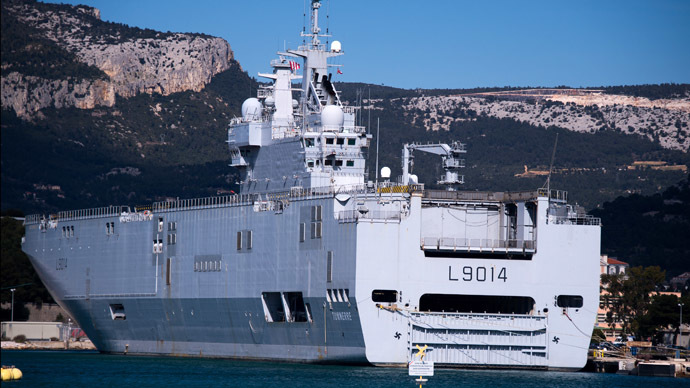 Conditions have not yet been met for France to hand over the Mistral-class warship to Russia. According to the contract, it is due to be delivered on November 14, Paris said.
"The conditions today are not met to deliver the Mistral," French Finance Minister Michel Sapin told RTL radio in an interview.
He added that the conditions the French government wants to see are "that in Ukraine the situation becomes more normal, and things cool down."
The Russian agency responsible for foreign arms trade said on Thursday that France so far hasn't sent any official notice that the Mistral contract may not be fulfilled.
Earlier on Wednesday, Russian Deputy Prime Minister Dmitry Rogozin said France had invited a new group of Russian Navy seamen and officers for training courses on handling Mistral-class warships, a move indicating that despite its ambivalent rhetoric France is continuing to fulfill the terms of the contract.
READ MORE:France to hand over first Mistral helicopter carrier on Nov 14 – Russia
Washington and Brussels pressed Paris into suspending the contract for two Mistral amphibious assault ships that French shipbuilders are building for the Russian Navy, as part of its global strategy to pressure Moscow with sanctions over the Ukrainian debacle.
France is facing a multibillion dollar fine, if it fails to deliver under the contract.
As the deadline draws closer, Moscow and Paris appear to be engaged in a war of nerves over the deal, which was praised as an example of cooperation in defense at the time of its sealing.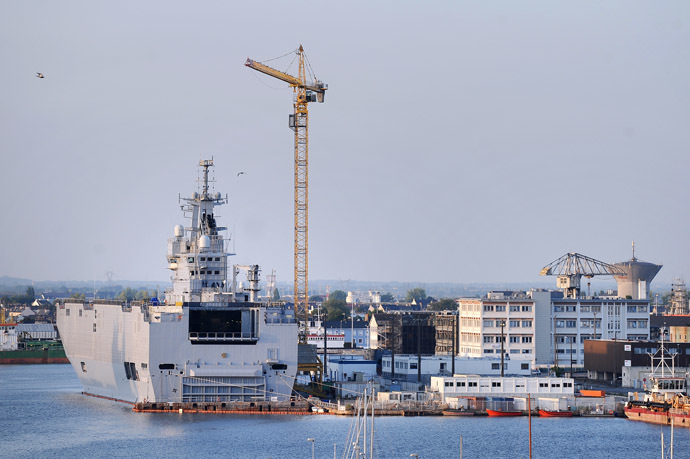 The US and the EU have accused Russia of failing to pressure rebel forces in eastern Ukraine into laying down arms and stopping their confrontation with the central government in Kiev. Moscow says its influence on the rebels is being overestimated and accuses the West of similarly failing to control the Ukrainian government.
Ukraine descended into a civil war after a West-approved armed coup in Kiev ousted the elected government in February and imposed a new one. As some Ukrainians refused to accept the transition, Kiev sent its military to crack-down on the dissent.
The conflict is aggravated by Crimea, formerly a Ukrainian region, which held a referendum to split from the country and join Russia. The West calls this an illegal annexation, while Moscow insists that it was a legitimate move by the people of Crimea in their right for self-determination.
You can share this story on social media: