​Mistral of discord: Russian sailors test-sail warship that Paris may withhold
A 400-strong Russian crew is manning a French-built Mistral-class warship as it conducts sea trials. It comes after Paris announced the possible cancellation of the contract due to the conflict in Ukraine.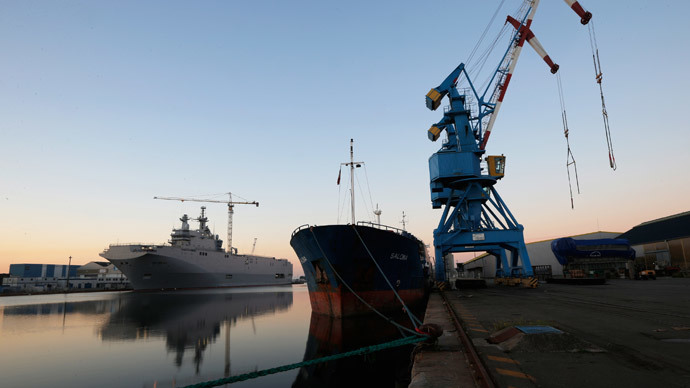 The Vladivostok left the harbor of Saint-Nazaire in western France on Saturday for the ship's fifth training and trial trip. The warship is manned by some 400 Russian officers and sailors, who had arrived in France to learn how to helm this kind of vessel.
The number of crew far exceeds the 170 necessary for Mistral-class ships, but the Russians are preparing to have at least two ships eventually and are therefore preparing more sailors to man them.
The trial was meant to start Wednesday, but was postponed by several days for technical reasons. The Vladivostok is scheduled to have a total of six trials, before it is handed over by the French shipbuilders to Russia later in November.
A #saintnazaire les manifestants "mistralgagnons# s'installent à la proue du BPC #vladivostok#russiepic.twitter.com/tSEYeaaaLt

— Echo de la Presquîle (@EchoPresquile) September 7, 2014
The deal is far from being assured, however, after French President Francois Hollande announced a suspension of this part of the contract following a NATO summit in Wales. He said he would decide on whether to respect French obligations or breach the contract with Russia in October.
Russia signed a $1.6 billion contract to build two Mistral-class warships in 2011. The second one is scheduled to be completed next year.
Other Western countries have been pressuring Paris for months, saying France has to make sacrifices to meet its commitment to oppose Moscow over the crisis in Ukraine through sanctions.
The sacrifice required may be painful indeed. The prospect already angered dozens of workers at the Saint-Nazaire shipyards, who would risk their jobs if the second Mistral-class ship Russia ordered is scrapped, and they protested Hollande's announcement. But more important is that France would face a multi-billion dollar penalty if it canceled the deal.
READ MORE: French protesters unite against govt's suspension of Mistral delivery to Russia (PHOTOS, VIDEO)
A warship of this kind is built for amphibious assault. It can carry up to 30 light helicopters in its hangar and on deck, although Russia plans to arm the Vladivostok and the Sevastopol with 16 heavy aircraft. The ship can also carry up to 450 combat troops (or 900 for short missions) in addition to the crew, complete with amphibious transports, armor and a command center.
You can share this story on social media: