France to hand over first Mistral helicopter carrier on Nov 14 – Russia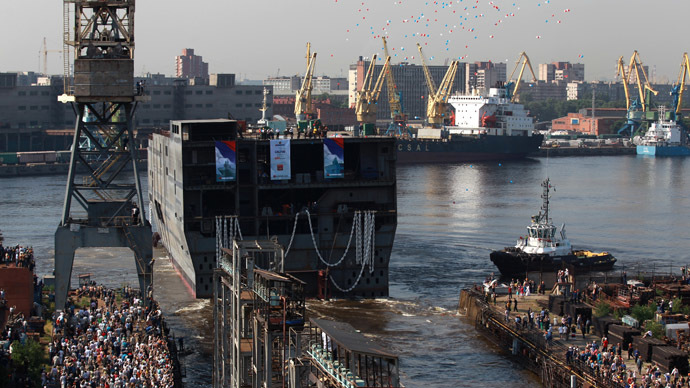 France may hand over the first of two Mistral helicopter carriers to Russia on November 14, Deputy Prime Minister Dmitry Rogozin said. He announced that Moscow had received an invitation to take delivery at France's Saint-Nazaire shipyards.
"Rosoboronexport [Russia's state owned arms exporter] has received an invitation to arrive in Saint-Nazaire on November 14, where 360 Russian sailors and 60 specialist trainers are already," Rogozin said.
On that day, Vladivostok – the first of two Mistral-class helicopter carrier ships – should be handed over to Russia. The Deputy PM also assumed the second carrier, the Sevastopol, would also be in dock.
"We act from the fact that France must protect its own reputation as a reliable partner, including on issues of military cooperation," he said. France has always stressed that for them this would be "the litmus test of their national pride and sovereignty," the Deputy PM added.
On Tuesday, French Defense Minister Jean-Yves Le Drian said that France will decide on delivery of the Mistral-type helicopter carriers to Russia only in November.
"The French president stated earlier that if the political situation does not improve, he will not permit delivery of the helicopter carriers," Le Drian said. "The president will make a decision by November."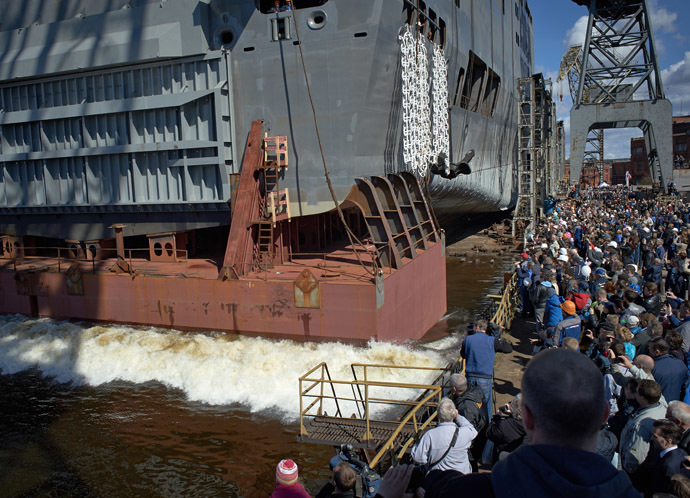 Rogozin emphasized that so far everything is proceeding according to plan.
French shipbuilders in the Saint Nazaire shipyard have said, according to RIA Novosti, that the helicopter carriers are ready for delivery.
There has been no official statement from the French authorities yet.
Russia and France signed a €1.12 billion ($1.6 billion) contract for building two Mistral-type ships in June 2011.
Under the deal, Russia was supposed to receive the first of the two warships, the Vladivostok, in October this year.
However, delivery has been postponed due to the conflict in Ukraine, the impetus behind the international community's pressure on France to cancel the contract.
Western allies have been pushing Paris for months, saying that France has to make sacrifices to meet its commitment to oppose Moscow through sanctions over the crisis in Ukraine.
The second Mistral-class helicopter carrier, the Sevastopol, is expected to be handed over to Russia next year.
The Mistral-type helicopter carriers can accommodate up to 30 light helicopters in its hangar and on deck, although Russia plans to arm the Vladivostok and the Sevastopol with 16 heavy aircraft. The ship can also carry up to 450 combat troops (or 900 for short missions) in addition to the crew, complete with amphibious transports, armor and a command center.