Europe, South America overrepresented at World Cup – FIFA boss
Published time: 28 Oct, 2014 17:46
Edited time: 28 Oct, 2014 17:54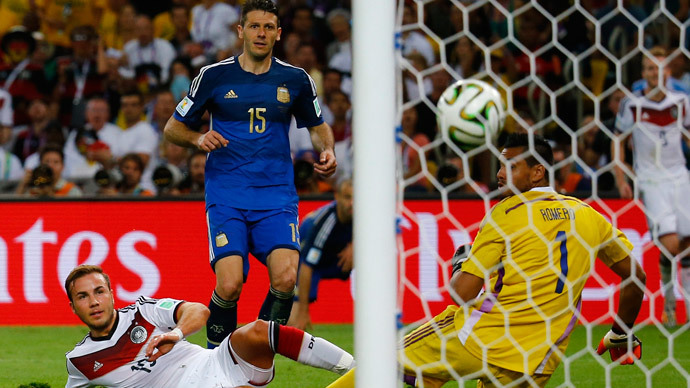 There are too many European and South American teams playing at the World Cup and football authorities need to be "a little more democratic" by changing the quota in favor of squads from other continents, Sepp Blatter, FIFA President, told RT.
Blatter believes that the European football federation (UEFA) and it South American counterpart (CONEMBOL) are "overrepresented" among the 32 World Cup participants.

"For instance, in the World Cup we just played in Brazil…it was a great World Cup, but it was 13 teams of Europe and six teams of South America. It means 19 teams of two confederations. This is a little bit a high number and we should be a little bit more democratic and try to equalize this quota, but still with maintaining the quality of football," the FIFA boss explained to RT's Sophie&Co program.

The head of football's governing body refused to disclose the specific changes he plans on making ahead of time, calling it "a delicate sports political matter."

However, he gave an assurance that the number of participating nations at the World Cup won't be increased in 2018 and 2022 "as long as I'm the president of FIFA."

"32 teams is the best number" as more participants would mean that the World Cup would last longer than it currently does and "people can't digest more football than 30-31 days, even if it's football of the highest level," he explained.

Europe and South America have always been dominant on the international football stage, never allowing teams from other continents to get their hands on the trophy.

The World Cup has been held on 20 occasion since 1930, with the Europeans boasting 11 titles (Italy – 4, Germany – 4, England, France, Spain -1) and South Americans – 9 (Brazil –5, Uruguay – 2, Argentina – 2).

READ MORE:Russia 'far in advance' of Brazil in World Cup preparedness – FIFA's Blatter

Blatter once again confirmed his conservative approach towards possible amendments to football rules.

"The popularity of our game is that practically since 1886 the basic laws and rules of football haven't changed – 11 aside, one ball one referee," he said.
He called the goal line technology that was introduced this summer at the World Cup in Brazil "a big help," but ruled out such proposals as the 'white card' (five-minute timeout penalty) and increasing the number of substitutions during a match.

The FIFA boss also spoke out against calls to implement stricter control over goal celebrations, which came up after last week's tragic death of an Indian footballer, who injured himself while trying to mark his goal with a summersault.

Football is an "exceptional game with 300 million active participants" that provides "emotions, entertainment and passion," he reminded.

"And in a game where there are so many people, you can't avoid accidents, even in the celebration of goals. That's absolutely impossible… We are victims of our popularity," Blatter added.

He also said that such measures as staging matches without spectators to tackle football hooliganism "isn't the essence of football" and other ways should be found to punish the perpetrators.

"When it comes to racism, we have the possibility to deduct points" and if this option is used more often, violations by fans "would stop immediately," the FIFA president explained.

Russian football champions, CSKA Moscow, have been condemned by UEFA to play their whole Champions League 2014/15 group stage campaign in front of an empty stadium for repeated cases of racist behavior among its supporters.

At the end of the interview, host Sophie Shevarnadze asked her guest to name the footballer he considers the best in the world.

Unexpectedly, Blatter chose neither Lionel Messi nor Cristiano Ronaldo, picking the goalkeeper of Germany's World-Cup-winning squad, Manuel Neuer, instead.

The FIFA boss arrived in Moscow for Tuesday's presentation of the official logo of the 2018 World Cup, which Russia will be hosting.

The ceremony will commence at 23:30 Moscow time (20:30 GMT), with the logo being projected onto the capital's iconic Bolshoi Theater.

You can watch the full interview with FIFA President Sepp Blatter on Sophie&Co later in the week on RT.