Darth Vader battles babushkas at Ukraine polling station… no light sabers used (VIDEO)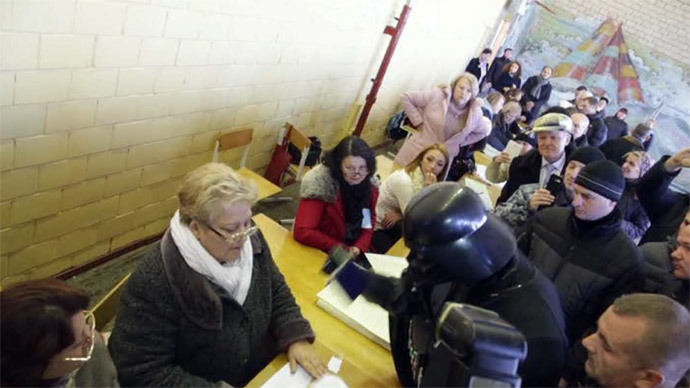 Darth Vader, running for a seat in Ukraine's parliament, was banned from voting on Sunday after he refused to remove his mask at a polling station in Kiev. The incident caused a scuffle, with Vader fighting elderly people over his voting rights.
A Ukrainian MP candidate who calls himself Darth Vader arrived at a polling booth in full Star Wars regalia, replete with the famous mask, helmet and cape. The Kievan Sith Lord even had a special device on his chest, transforming his voice to resemble the dark force character's (rendered by actor James Earl Jones).
READ MORE: Ukrainians choose MPs in early elections LIVE UPDATES
Darth Vader, who leads Ukraine's Internet Party, approached one of the polling stations at a Kiev school, in his black 'Darthmobile', to the tune of the Imperial March, Ukraine's Komsomolskaya Pravda newspaper reported. It added that he initially got lost in the neighborhood, but then found his way to the station.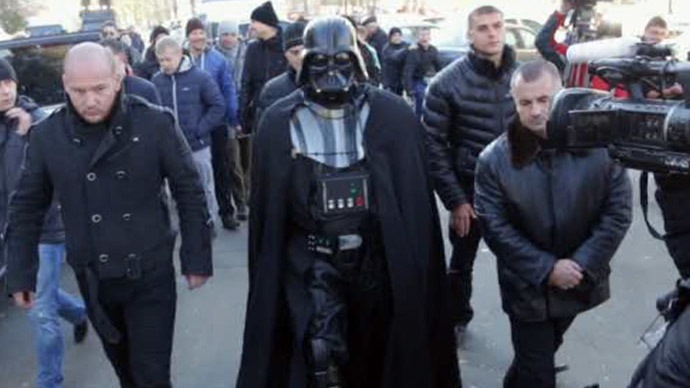 Darth Vader banned from voting: asked to take off mask at polling station, he refused, they didn't give him a ballot #UkraineVotes

— Irina Galushko (@IrinaGalushkoRT) October 26, 2014
In a video of the scene at the station, when finally inside, Darth Vader is seen holding on to his Ukrainian passport, but a man out of sight is heard trying to stop him, shouting "Sons! Get out of here! Show your documents!"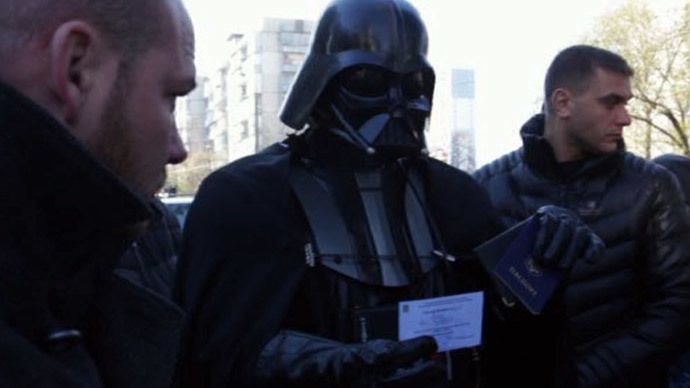 Darth Vader then shows his passport to some elderly ladies in charge of registering voters and giving them ballot papers. He then starts fighting with one of the registering women over his passport, while she is heard demanding that Vader show his face.
"Once again I wasn't allowed [to vote]. This disappoints me, but the fact that I didn't vote doesn't mean that the new Ukrainian empire is not being built," an annoyed Darth Vader says as he leaves the room.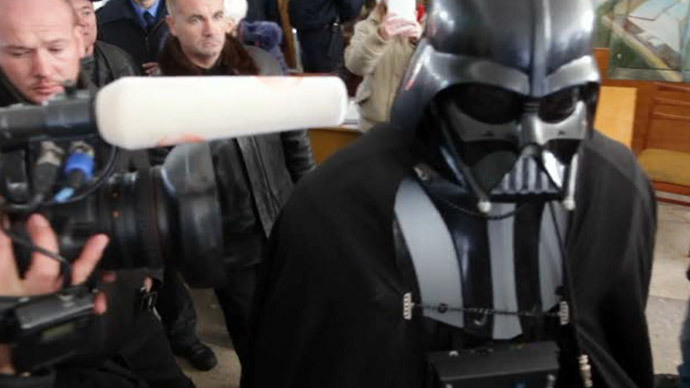 READ MORE: Ukraine election 'force': Darth Vader leaves Kiev kids in tears
The candidate then gave interviews in the street, saying that "all politicians who have been in power and who are running for power have robbed Ukraine and led it into a black hole."
Vader is interrupted by a man in a military uniform, who shouts at him to "put a battle helmet on and go fight in the war, rather than showing off as a hero."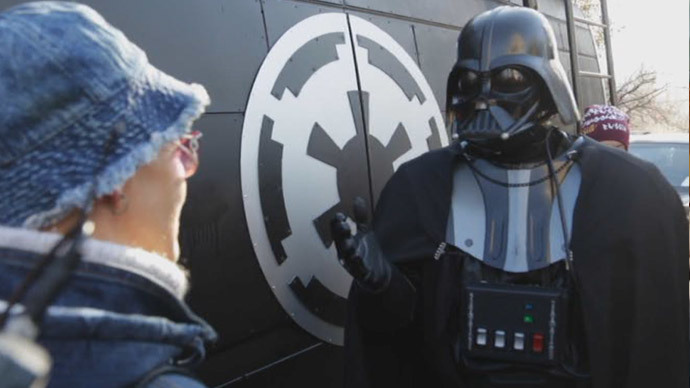 READ MORE: Kiev en route to Europe? Who Ukrainians are voting for in parliamentary election

Although Vader refused to show his face as a voter, he had to remove his mask for the election information ballot. A Twitter user posted the picture of the paper, with the faces of the Ukraine's Internet Party members revealed, calling it "sad."
печаль pic.twitter.com/n9hrLwzvHK

— Feldman (@EvgenyFeldman) October 26, 2014
Ukraine's Central Election Commission earlier registered the lot of Darth Vader, Yoda, Padme Amidala, Chewbacca, and Palpatine to officially run in the country's parliamentary elections.
A refusal to remove the dark mask has already cost the Sith Lord a bid to stand for the Ukrainian presidency earlier this year.
You can share this story on social media: