Ukraine election 'force': Darth Vader leaves Kiev kids in tears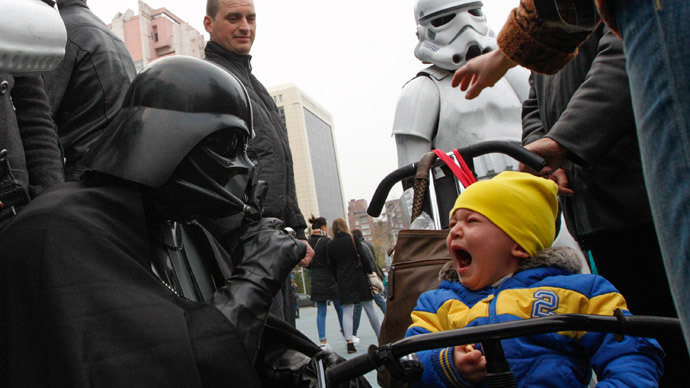 One of the greatest fictional villains, Star Wars' Darth Vader, has taken to the streets of the Ukrainian capital, to get personal and close with potential voters. His Internet Party will be running for the national parliament in Sunday's poll.
Representative of the dark side of the Force, the MP candidate was registered by Ukraine's Central Election Committee, along with other famous movie saga characters, including Yoda, Padme Amidala, Chewbacca, and Palpatine.
Darth Vader, Yoda, Chewbacca aim to invade #Ukraine's parliament in upcoming election http://t.co/dk5Dx6ZcEppic.twitter.com/FwBY1YC0a6

— RT (@RT_com) September 30, 2014
The lot will run for the parliament, the Verkhovna Rada, representing the Internet Party. Vader is the group's prime candidate, supported by 11 million people, according to the party's official website.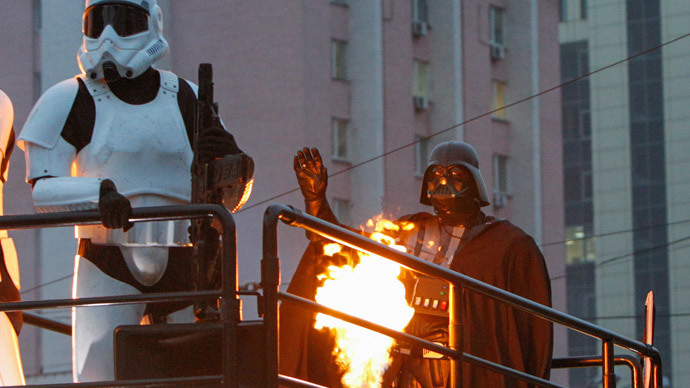 The candidate has recently been seen in Kiev, being driven atop a black van in clouds of smoke and fire, with stormtroopers on hand. Getting up close with people in the streets, Vader scared some kids to tears, while teenagers were quite eager to take selfies with the potential parliamentarian.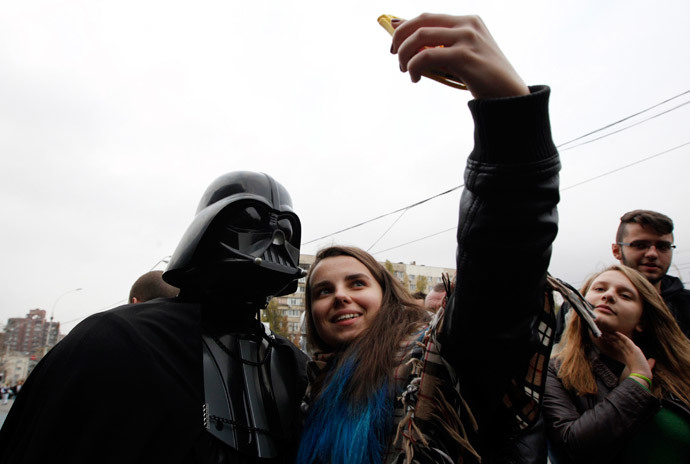 Although Ukrainian Vader's official website pronounces him to be a "candidate with a human face," the real face behind the iconic mask remains a secret.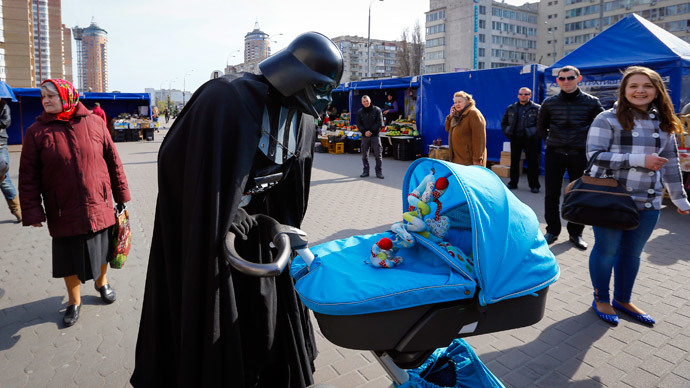 Ahead of the elections, a YouTube video of the candidate removing his helmet and mask was released, but it only showed the rear of Vader's head. Withholding his identity, the video demonstrated the Sith Lord to be truly Ukrainian, sporting the country's traditional haircut.
According to the online biography, Vader was born in Kiev to the family of a composer and a fashion model. He also took part in one of the Chechen Wars.
Darth Vader is running in the parliamentary elections in Ukraine. pic.twitter.com/yWi7VG9fAX

— BigMike (@MRoberts42_) October 24, 2014
As the leader of Ukraine's Internet Party, Darth Vader's policies include a promise to transform the country's ruling system into an 'e-Government', providing services to its citizens by means of internet, electronic terminals and mobile phones. The models of Vader's planned governing include such as 'G2C' (government-to-citizens), 'G2B' (government-to-business) and 'G2G' (government-to-government).
The list of policies also features an 'online-budget' and development of nanotechnology and robotics in the field of science.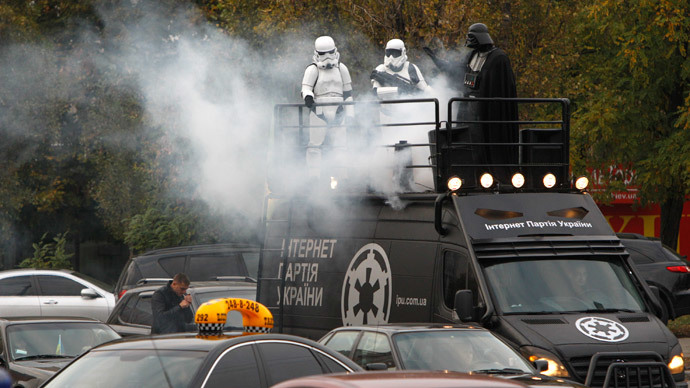 Darth Vader is not a newcomer to Ukrainian politics. He has previously mounted campaigns for the mayorships of Kiev and Odessa, with promises of free Wi-Fi for students and computers for all kids starting from the age of 10.
Darth Vader wants to run for Ukrainian presidency http://t.co/Js9LzQPBQ6pic.twitter.com/ujHssDlEho

— RT (@RT_com) March 28, 2014
He also planned to move Chernobyl further from the Ukrainian capital and "nationalize the Black sea," making Turkey and Russia pay to use its waters in the Odessa Region.
Unsuccessful attempt to join Ukraine's presidential race has not discouraged Lord Vader http://t.co/rHmmBSOvG5pic.twitter.com/PqOOpE9P0K

— RT (@RT_com) May 1, 2014
The Sith Lord's bid to stand for the Ukraine presidency earlier this year was rejected, as he refused to show his face during the registration process.
Parliamentary elections in Ukraine will take place on Sunday, October 26 - after President Petro Poroshenko dismissed the country's previous Rada in August. Ukrainians will choose 424 MPs, with a total of 29 political parties expected to be running for the vote.
FOR MORE WATCH RT'S IRINA GALUSHKO REPORT FROM UKRAINE
You can share this story on social media: