Kiev en route to Europe? Who Ukrainians are voting for in parliamentary election
Early parliamentary elections are being held in Ukraine this weekend, with the nation choosing its new MPs. While the crisis in the country's east is far from being resolved, most of the parties running for power direct their policies to the west.
READ MORE:Ukrainians choose MPs in early elections LIVE UPDATES
Under the Ukrainian constitution, its one chamber parliament (Verkhovna Rada) is the country's sole legislative authority. MPs (people's deputies) are elected by secret ballot for a five-year term, under a mixed voting system with a five percent threshold. The parliament starts its work only if at least 300 members are elected.
The previous election was held in October 2012, but this August president Petro Poroshenko, who came to power in June, announced his decision to dismiss the parliament. Poroshenko's spokesman Svyatoslav Tsegolko said the move was made because the "majority" of MPs in the current convocation of the parliament earlier voted for "dictator-style laws."
Saying that the parliament, elected under the presidency of ousted Viktor Yanukovich, was no longer relevant, the President called on "democratic forces" in the country to enter the early elections as a united "pro-Ukrainian, pro-European team," according to Tsegolko.
Twenty-nine political forces which presented their party lists for a nationwide vote are fighting for half of the seats in the 450-member parliament. The other half will be filled by candidates running in individual districts.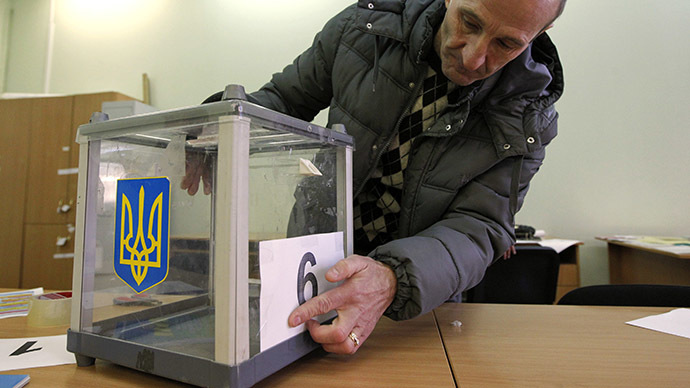 According to early polls, President Poroshenko's Bloc is leading opinion polls, with over 16 percent of the vote. Previously known as the Solidarity party, the bloc is a liberal-conservative party, set up by the current president in 2001.
Poroshenko's party policies, dubbed 'Strategy 2020,' aims to implement special programs that will help the country apply for EU membership within the next six years.
Second in the running, with some 7 percent of the vote, is Oleg Lyashko's Radical Party. Led by a former journalist and Euromaidan activist, the party is said to be a pro-European radical democratic group.
Other parties include Ukraine's People's Front Party, co-founded in September by Prime Minister Arseny Yatsenyuk, with its platform based on the idea of European integration and visa-free travel regime with the EU, and the All-Ukrainian Union Batkivshchyna (Fatherland), currently led by Ukraine's former prime minister Yulia Timoshenko, who is calling for a national referendum on Ukraine joining NATO and imposing sanctions against Russia.
Analysts predict the new Ukrainian Rada will see a record number of parties after these elections, with even the dark force running for the vote, with Darth Vader representing Ukraine's Internet Party.
READ MORE:Ukraine election 'force': Darth Vader leaves Kiev kids in tears
Although becoming part of the European Union is an idea the vast majority of Ukrainian politicians seem to be pushing forward, their behavior doesn't exactly reflect ideals of European civilization.
Mob rule with regular trash dumping of lawmakers in Ukraine gained wide popularity among Ukrainian radicals, who attacked officials on the streets, throwing them into rubbish cans, after president Poroshenko signed a lustration law, aimed at restoring "trust in the authorities and creating conditions for building a new system of power bodies in line with European standards."
READ MORE:'Almost lynching': Radicals attack Ukrainian officials, throw into trash bins
#VIRAL: Protesters dump Ukrainian deputy in rubbish bin (PHOTO, VIDEO) http://t.co/dUllqUg0Pcpic.twitter.com/TshwU4nWa6

— RT (@RT_com) September 17, 2014
One day ahead of the vote, a "patriotic hacker group" CyberBerkut broke into Kiev's advertising billboards, and uploaded a video demonstrating disturbing images of dead people's bodies, killed in the conflict in eastern Ukraine and portraits of Ukrainian politicians with "war criminal" labels on them.
«Кибер-Беркут» взял на себя ответственность за взлом видео-билбордов #Киев#SaveDonbassPeoplehttp://t.co/vYk6i4qqUWpic.twitter.com/pEHTXKttqv

— КРАСНАЯ ВЕСНА (@dimitri_matveev) October 25, 2014
The group announced the move was aimed at reminding Ukrainian people of "uselessness of farcical elections."
Authorities in Ukraine's self-proclaimed Donetsk and Lugansk republics stated they would not go to the polls on October 26. The self-proclaimed people's republics plan to hold elections of their own heads and parliaments on November 2.
Russia says it will accept the results of both elections. "We want Ukraine to enter a civilized course, and so that it becomes a country that is not hostile towards Russia, and can pay for itself," Sergey Ivanov, Chief of Russia's presidential administration, told journalists.
Despite an earlier report that the electronic system was out of order and the votes would be counted by hand, released on the Prosecutor General's website, the Central Election Commission later said all systems are fine and function as normal.
The first preliminary results of the election will be announced by the Central Election Commission on Monday, with final results expected to be made public by October 30.
You can share this story on social media: