US Reaper drone crashes at Niger airport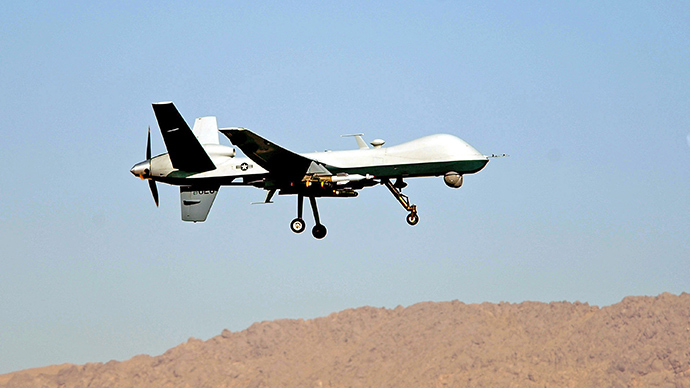 An American drone crashed into the runway at Niger's main international airport on Monday, damaging it and shutting the facility down for hours, the US military has confirmed, adding that there were no casualties or injuries.
The crash occurred in the early morning around 3:40 am at Diori Hamani International airport, according to AFP, which added that the runway was closed for nearly nine hours to enable crews to repair the damage.
READ MORE:Drone, US jet narrowly avoided air disaster earlier this year
In a statement by the US Air Forces in Europe and Africa, it was revealed that the drone was an unarmed MQ-9 Reaper, which is remotely operated and capable of maintaining airborne surveillance efforts for dozens of hours.
"The US government is working closely with the government of Niger to secure the scene and mitigate inconveniences caused by the incident," the statement read, as quoted by AFP. "The cause of the incident is currently under investigation."
The use of surveillance drones over Niger has been a common occurrence since 2013, when the United States started the practice in an attempt to bolster French troops battling Islamist militants in neighboring Mali. Roughly 1,200 French soldiers are trying to contain an insurgency that erupted in 2012.
In fact, Niger has become a key staging ground for American and French drone flights. The two countries have been cooperating out of Niamey – the country's capital, and the location of the Diori Hamani airport – as they try to combat concerning spikes in jihadism throughout Africa. In September, the US announced it would open a second drone base in central Niger, where it could track extremists in Mali and Libya more effectively.
The most recent drone crash is the latest in Africa, where multiple accidents have been reported since 2011. Two years ago, a suspected drone fell out of the sky into a refugee camp in Somalia, witnesses told the Associated Press.
Following that event, the UN released a report stating that drones, in general, could pose a threat to air traffic. It noted one close call in which a drone nearly collided with a passenger plane in mid-air, and another in which a drone flew precariously close to a fuel depot.
READ MORE:FAA announces locations for future drone testing sites
Outside of Africa, accidents and near-misses have also been widely reported. Back in March 2014, an unmanned aerial vehicle almost crashed with an airborne commercial plane above Florida. In July, two drones operated by local residents nearly collided with an airborne New York Police Department helicopter, leading to arrests.
Meanwhile, a drone that crashed into a US Navy battleship off the coast of California caused $30 million in damages.
With drone use on the rise – the Federal Aviation Administration (FAA) projects up to 7,500 drones operating in US airspace within five years – government officials are hard at work crafting operational and safety guidelines. Six domestic testing sites have been picked out by the FAA, and the integration of drones into American airspace is expected to start by the end of next year.
You can share this story on social media: