Soda addict? Camel brutally kills Chicago man in Mexico wildlife park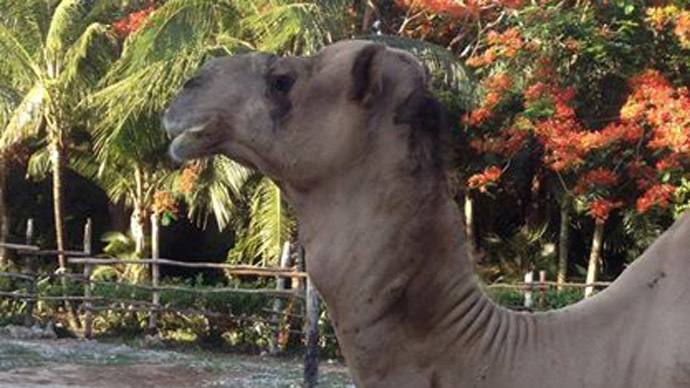 An owner of a wildlife sanctuary in Mexico came under fierce attack from his own camel and was mauled to death. Investigators wonder whether the animal became enraged because it did not get its daily dose of Coca Cola.
Monday saw the camel as usual in his enclosure in the Tulum Monkey Sanctuary wildlife park, Yucatan, Southern Mexico, when it suddenly went for the owner, Richard Mileski, a 60-year-old US citizen.
"The camel kicked and bit him practically to death, and when he was almost dead, he sat on him," said Tulum civil defense official Alberto Canto. "Between the blows and the weight of the camel on top of him, he was asphyxiated."
The staff had to use a rope and a pickup truck to pull the camel away from the body and subdue it. The struggle to save Mileski was in vain, as the camel weighs over 600 kg.
It's not known why the camel reacted this way. One idea is the camel's addiction to Coca-Cola; Mileski, who owns the sanctuary in the park, used to give the camel this drink daily. But on that tragic day the animal didn't get his usual portion and that might have infuriated it.
Richard Mileski founded the Tulum Monkey Sanctuary on his ranch to help rescue the spider monkey from extinction. But he did not limit himself to helping the monkeys - he provided sanctuary for dogs, ducks, horses, wild pigs and other animals.
Richard Mileski lost his life caring for one of the animals that he has dedicated the last 15 years of his life to, a statement on the park's official Facebook page said.
The park's office said they couldn't provide papers proving the origin of the animals, AP says. Local officials added the park didn't have any permission or licenses for their activity.
Mexico's Attorney General's office for Environmental Protection stated on Tuesday the animals would be confiscated but kept in the park during the investigation. There are also 13 spider monkeys, six deer, two emus, two llamas and a wild boar in Tulum.
The park was opened in 2012 and was very popular with tourists. Many of them expressed their condolences on the park's official Facebook page. Richard Mileski's funeral was held on Friday.