iHappy now? New $299 device wants to unbend iPhone 6 (VIDEO)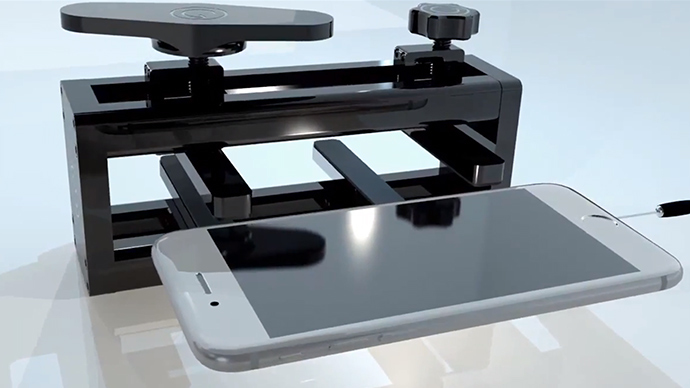 #Bendgate has not passed unnoticed: A gadget for pressing the new, but not infallible, iPhone6 back into shape has gone on sale for… $299. For the US, this is around the price of the phone itself in a bundle with a contract.
A company called gTool has been claiming that its 'PanelPress' will straighten out the device by applying pressure to it from the other direction using a system of rubber-padded clamps and screws.

The process initially seems quite intimidating for owners of the device wanting to rectify the widely-publicized problems. The phone has to be placed in a vice-like grip with a small support underneath it marking the bend line.

The top bolts then have to be tightened so that the phone is "unbent," by bending it in the other direction.
Before the process takes place, however, one of the other problems that the iPhone is renowned for being susceptible to needs to be circumvented – the device's glass screen needs to be taken out to prevent it shattering under pressure.

Once the phone has been bent back into shape, users will be free to reinstate the screen. Given, of course, that the phone hasn't been bent in two places after the procedure.

#Bendgate went viral on social media soon after iPhone6 was released – and proved susceptible to bending when placed in back pockets, or sat on.
We don't bend, we #break. #bendgate#iPhone6pluspic.twitter.com/uippCg4kCi

— KITKAT (@KITKAT) September 24, 2014

The technology giant downplayed the phone's potential to bend, though, saying that less than a dozen customers complained about the issue soon after the launch. It also said the phone may be bending due to its large size and very thin frame.

However, the scandal was followed by a second disparaging hashtag of "#Hairgate" – during which iPhone users noted the susceptibility of their hair to getting caught in the devices, something like an unwelcome razor.
Forget #bendgate, get #hairgate - latest Apple iPhone6 bad luck pluck http://t.co/rhbNTa2aARpic.twitter.com/26VlQULUBE

— RT (@RT_com) October 7, 2014