Global-scale enormous: #Vongfong Typhoon startles even from orbit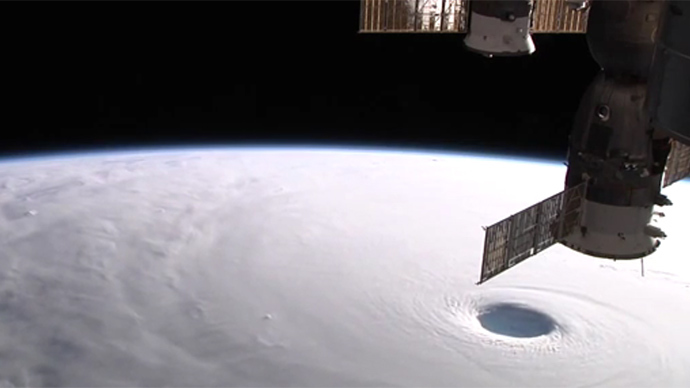 The powerful Typhoon Vongfong has injured over 40 people on the Japanese island of Okinawa, and is now downgrading from a super-typhoon to a mere tropical storm. But at the peak of its strength it was a startling sight to see from the Earth's orbit.
The giant atmospheric vortex that is the typhoon fascinated German astronaut Alexander Gerst, who is currently on board the International Space Station as part of the Expedition 40/41 crew.
#SuperTyphoon#Vongfong is enormous even on a global scale. #BlueDothttps://t.co/dp9q0SFiB5pic.twitter.com/1YYw2AA2Zf

— Alexander Gerst (@Astro_Alex) October 12, 2014
On Sunday, Gerst tweeted the photos he took of the typhoon which prompted a recommendation to almost 185,000 people to evacuate.
The eye of #SuperTyphoon#Vongfong is 80 km across. Looks very dark in there. pic.twitter.com/se99y4WUv6

— Alexander Gerst (@Astro_Alex) October 12, 2014
Earlier NASA published a time-lapse video, demonstrating the ISS passing over the monstrous storm. By this time, Vongfong has passed Okinawa and is moving to central parts of Japan with Tokyo expected to be hit by Monday night.
Some 350 flights have been cancelled due to the typhoon while over 40,000 households remain without electricity. According to local media, winds are blowing at 140 km per hour (90 mph) with gusts of 185 kph (115 mph) - powerful enough to overturn a moving lorry.
Taken on October 9 at 03:55 UTC, satellite estimates indicate that #Vongfong's eye is approximately 50 miles wide. pic.twitter.com/Zm5jJMYfGj

— NOAA Satellites (@NOAASatellites) October 9, 2014
This is the 19th tropical storm to come from the Pacific Ocean this year and so far has all the chances to turn out the most powerful.
#SuperTyphoon#Vongfang – I've seen many from here, but none like this. pic.twitter.com/i2ZwzPsJcV

— Reid Wiseman (@astro_reid) October 9, 2014
The previous severe weather alert, generated by Phanfone, caused more than 1.2 million people to be evacuated to shelters, disrupted air and rail travel as well as the search and rescue efforts for missing people.
You can share this story on social media: