Typhoon hits Japan: 50 injured, 4 swept out to sea, Tokyo drenched (VIDEO)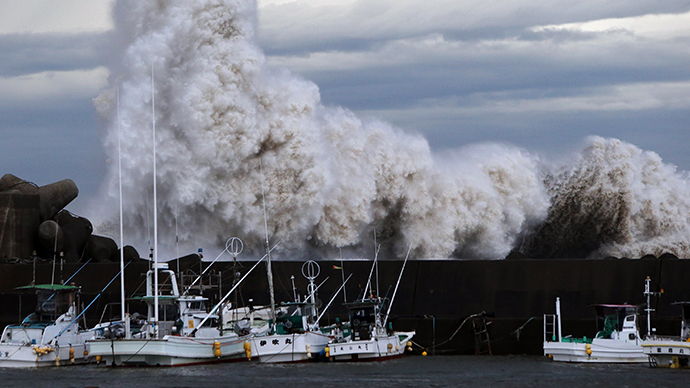 At least one person died and five remain missing after powerful Typhoon Phanfone struck Japan, bringing rough seas heavy rain and strong winds. About 50 people have been injured throughout the islands.
A member of US Air Force drowned as he was taking photos of the coast of the southern Okinawa Prefecture. Two more US personnel remain missing after the three were swept out to sea by powerful waves.
"Three officials were taking pictures with high waves whipped up by the typhoon in the background," a spokesman at local police told AFP. "One has been found dead, with the two others still missing."
On Sunday Japanese broadcaster NHK reported that one university student, aged 21, went missing while doing surfing near the city of Fujisawa, Kanagawa Prefecture, central Japan.
The storm was near Yokohama, the second-largest city in Japan by population, 43km from Tokyo. Two men were reportedly buried in the mudslides in the city.
About 50 people across the country sustained injures during the typhoon, report the country's authorities.
About 630 flights were canceled on Monday morning throughout the country. Most were to or from Tokyo's Haneda Airport. Heavy rainfall also suspended the bullet train service between Tokyo and the city of Osaka.
Japan's meteorological agency recorded winds up to 180kph. It warned that heavy rains, landslides and huge waves may hit a large part of the country.
The government had to close schools in central and eastern parts of Japan and suspended rail and road traffic.
Local authorities issued evacuation advisories for their residents and advised to take refuge for nearly 1.7 million people. More than 50,000 residents of central Japanese prefecture of Shizuoka were ordered to evacuate.
Typhoon also lashed out at Tokyo with strong winds and heavy rains. 55.5mm of rain were recorded in the capital on Monday, reported local weather channels.
Phanfone has headed out to sea, and by early afternoon was further into the Pacific Ocean.
Tokyo Electric Power Co., the operator of the tsunami-crippled Fukushima Daiichi nuclear power plant, decided to stop all ground and sea work with cables and hoses due to the typhoon.
"We are also patrolling and checking where water may flow in," a TEPCO spokesman told AFP.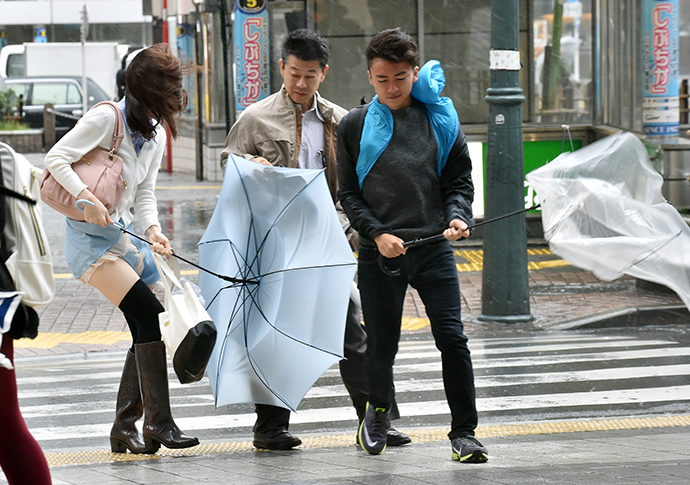 Thousands of households have lost power across the country. On Sunday at least 22,000 households were left without power in the Amami area in Kagoshima Prefecture, on the most southwesterly main island of Kyushu, reported NKH. At least 58 residents of the area were evacuated.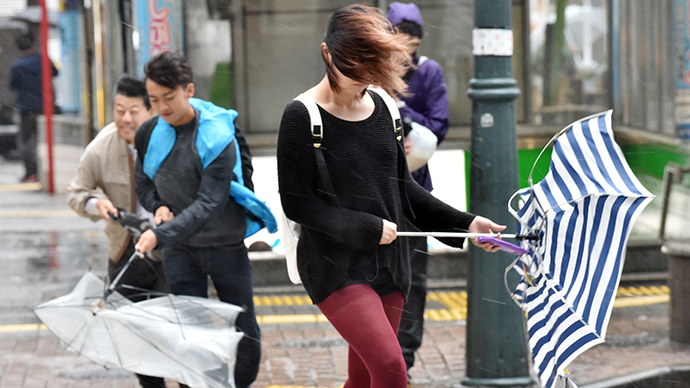 Japan was recently hit by another natural disaster - a strong eruption of the Ontake volcano in central Japan. Dozens of people were killed in the disaster and rescuers are still retrieving the bodies.
After the typhoon hit, authorities had to suspend the search for bodies.
"We want to resume operations as soon as possible when weather permits," an official of the crisis management office of Nagano, where the eruption occurred, told AFP.