At least 10 killed in ongoing unrest in Turkey (PHOTOS, VIDEO)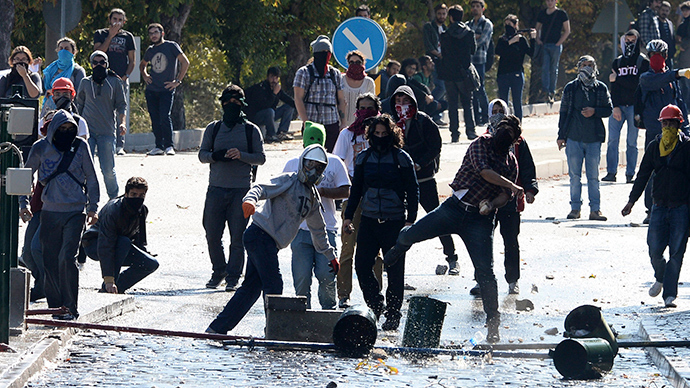 At least ten people have been killed in Turkey as the unrest in the country enters its fourth day. Overall around 30 people were killed in violent protests over the fate of the Kurdish town of Kobani assaulted by the Islamic State jihadists in Syria.
The latest deaths on Thursday evening happened in clashes between rival groups in the southeastern province of Gaziantep. Defying a curfew imposed by the army, at least 20 people were wounded when pro-Kurdish activists and their opponents attacked each other with pistols, rifles and axes, Dogan news agency reported.
#Turkish#Nationalists with weapons and swords are clashing with Kurds in #gaziantep in #Turkeypic.twitter.com/P5In5HhHyx

— Ali Capar (@Alicapar88) October 10, 2014
Separately, in the eastern city of Bingol, two police officers and a guard were killed while a police chief was wounded when gunmen attacked them. The attack happened while law enforcement was investigating the scene of recent Kobani-related clashes.
The wounded officers were taken to Bingol State Hospital for treatment. Three of the attackers were later killed while three others were captured after they clashed with security forces shortly after they fled the crime scene.
In the south eastern province of Mardin, one protester was killed in scuffles with police, AFP reports.
Pro-IS crowd in Gaziantep openly carrying weapons. via @BarisTahmazpic.twitter.com/sI4kPD9blr

— Jiyan (@JiyanAzadi) October 9, 2014
Meanwhile, police used tear gas, rubber bullets and water cannons against a students in Ankara, namely those protesting in support of Syrian Kurds in Kobani at the Middle Eastern Technical University (ODTÜ) campus and at Ankara University. At least 25 people have been detained, while one woman was reportedly injured after being hit by pressurized water in the face, Hurriyet Daily News reports. The violence has prompted the Rector's Office of Ankara University to cancel all classes on Friday.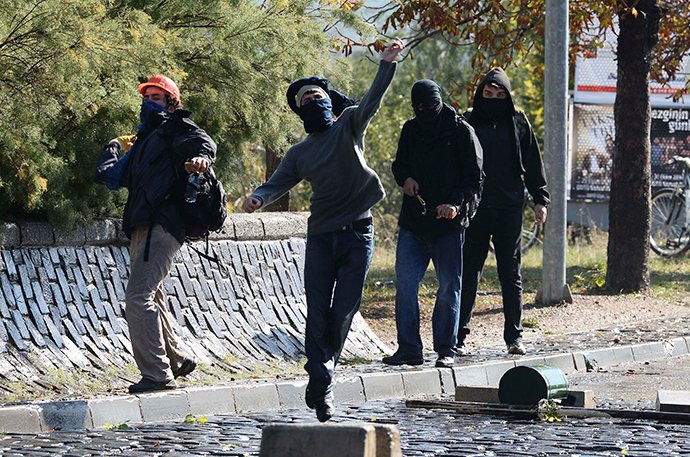 Earlier in the day, 28 people were detained following a row between a Muslim Youth group and students at Istanbul University.
Police also detained 50 anti-war activist women who staged a protest against IS and the government at Istanbul's Ataturk airport, AFP reports.
Meanwhile Turkish President Recep Tayyip Erdogan vowed on Thursday that he would not allow peace process between Ankara and the Kurdish rebels to be "sabotaged" and derailed, blaming clashes in the country on "dark forces" instigating unrest.
"It's very obvious that this game is aimed at sabotaging the peaceful environment in the east and southeast as well as the peace process and our brotherhood," Erdogan said referring to negotiations between the government and the outlawed Kurdistan Workers' Party (PKK).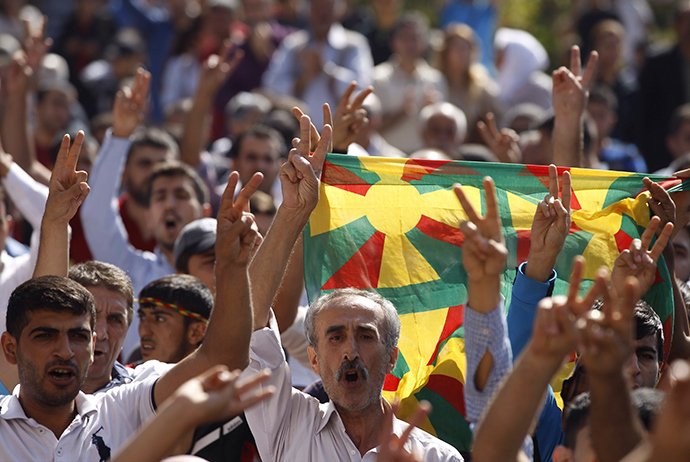 You can share this story on social media: