German Kurds continue rallying amid heavy police presence (PHOTOS, VIDEO)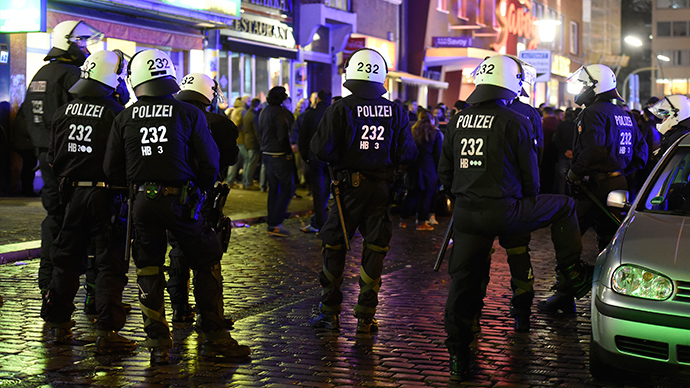 ​More than 2 thousand German Kurds have gathered in Stuttgart, Mannheim and Karlsruhe to protest the lack of action by the international community to protect the Kurdish population that face an imminent threat from Islamic State militants in Syria.
In Stuttgart about 1,500 people gathered in support of the Kurds after the afternoon's multi-day vigil at the Schlossplatz. A large police presence insured order in the city, as the police seized several dangerous items – from pepper spray up to a machete, Stuttgarter-Nachrichten reports. No other incidents were reported, but authorities said that they were prepared to respond to violence
"We adapt our forces to the behavior of the demonstrators," Stuttgart's Interior Ministry spokesman said, Stuttgarter-zeitung reports.
"Stoppt den Terror " #Kurden demonstrieren in #Stuttgart#Türkei#Syrien#ISpic.twitter.com/QN7rTIIuMJ

— Knut Krohn (@piechoty) October 9, 2014
"It cannot be that people get beheaded, women raped and children are kidnapped," Hikmet Eser, a protester told Schwaebische news. "But the world is watching this."
#Kobane kann Panzer der #IS nichts entgegensetzen.#Kobane schützen JETZT! #Stuttgart#UNO#USApic.twitter.com/uEhSRCJfTo

— st newsroom (@S_Tagblatt) October 9, 2014
Rallies in Mannheim and Karlsruhe drew far lesser crowds, following serious clashes with pro-jihadist Muslims on Tuesday night that injured at least 23 people in Hamburg and Celle.
READ MORE:Pro-ISIS radicals with machetes, knives attack Kurds in Germany
On Thursday, Hamburg authorities said that over 1,000 Kurds took the streets the night before , as police announced that they confiscated weapons including machetes, baseball bats and one gun. Police said 64 people were detained.
Sporadic clashes did erupt but mass violence was avoided as fundamentalist Muslims and Kurd hurled rocks and bottles at each other. One person was reportedly hospitalized.
Germany's police union meanwhile said that Tuesday violence came from activists "armed to the teeth" who placed policemen "in lethal danger" and warned of "the threat of a proxy war on German soil."
"Islamist hate-preaching will not be allowed in Germany," Thomas Strobl, a deputy parliamentary leader of Christian Democratic bloc told N24 television. "We are a free country, governed by the rule of law. Anyone who oversteps the red line to such an extent will feel the force of the law."
A wave of anti-IS protests organized by Kurdish activists has rocked many European capitals, including London, Brussels, The Hague and in Sweden's Gothenburg.
The Kurdish diaspora in Europe is protesting that the Islamic State militants in Iraq and Syria are attacking Kurdish communities with impunity, without meeting any serious opposition on the ground apart from Kurdish peshmerga militias. The assault of jihadists on the Kurdish settlement of Kobani in Syria, near the Turkish border has already claimed over 400 lives, while airstrikes by the US and its allies against IS fighters in Syria are not focused on protecting Kobani.
You can share this story on social media: