​112 trucks carrying German humanitarian aid enter Ukraine (VIDEO)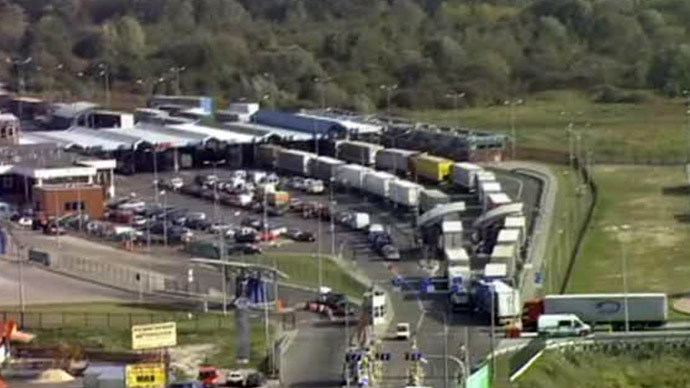 Over 100 trucks with humanitarian aid from Germany have successfully passed customs clearance in Poland and entered Ukraine. The aid is to be delivered for Donetsk and Lugansk regions, where essentials are needed badly.
"Tonight [Monday night] at the Dorohusk-Jagodzin customs checkpoint on the Polish side Polish and Ukrainian customs officers conducted a joint customs control and customs clearance of a 112 truck humanitarian convoy from Germany", the deputy head of Ukraine's Fiscal Service Anatoly Makarenko said Tuesday as cited by UNIAN news agency.
READ MORE:Germany considers 'sending troops' to E. Ukraine
At the initiative by German Minister of Economic Cooperation and Development Gerd Mueller, 17 German sent humanitarian supplies that include mobile homes, field kitchens, radiators, generators, water and fuel tanks as well as winter clothing, bedding and camp beds, and hygiene kits.
All humanitarian supplies are to be worth €10 million ($12 million), German ministry of economic cooperation and development earlier estimated.
"The people of Ukraine can count on us as a reliable partner," Muller said on Sunday, calling the move a "signal of solidarity".
"We want our contributions to reach the numerous Ukrainian families that are in need and suffering so that they are equipped to withstand the winter," he said.
Ukrainian President Petro Poroshenko has thanked German Chancellor Angela Merkel in a phone call, the presidential administration said in a statement.
READ MORE:'I wouldn't wish it on my worst enemy': E. Ukraine village in ruins after fierce shelling
At the same time, the two have agreed that "the lack of sustained progress in implementation of the Minsk agreements, as well as continued attacks by militants pose a threat to the peace plan" between Kiev and eastern Ukraine.
Earlier Russia delivered its humanitarian aid for people of Donbass (Donetsk and Lugansk regions in southeastern Ukraine). There have been three convoys (about 200 trucks each) sent to Ukraine, of which the last arrived in Donetsk on September 20.
On September 13, and on August 22 Russia delivered humanitarian aid to Lugansk. A total over 4,000 tons of supplies were delivered to the crisis-stricken city.
On both occasions Kiev refused to clear the cargoes and accused Russia of invading Ukraine. Moscow for its part accused the Ukrainian authorities of deliberately stalling the relief missions to crisis-torn areas.
You can share this story on social media: