Germany considers sending troops to E. Ukraine – report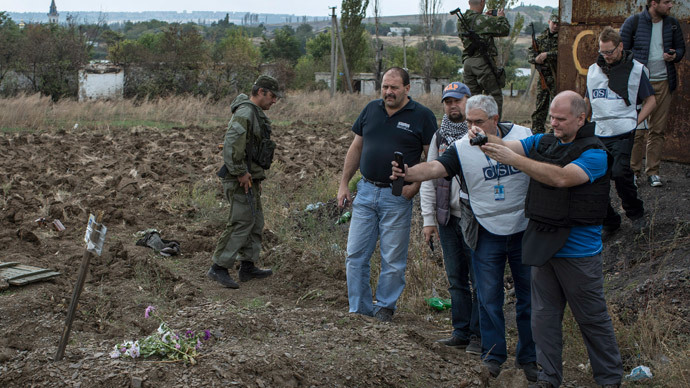 Berlin is mulling sending troops to monitor the shaky ceasefire between Kiev forces and local militia in eastern Ukraine, a German government source told Reuters.
The source told the agency that a German troop deployment would depend on the Organization for Security and Cooperation in Europe (OSCE), which could move to send in troops to monitor the ceasefire it helped broker on September 5 in Minsk, Belarus.
If such a political decision were made, the number of troops sent by Germany would depend on the security situation in Ukraine and conditions set by the OSCE, the source said.
German newspaper Bild, however, said that 200 soldiers were planned for the mission. Around 150 would help monitor the crisis area with drones, and an additional 50 would provide security.
Last month, France and Germany offered to send drones to help bolster OSCE monitoring of the ceasefire in Ukraine's troubled east.
The daily said the mission was in reaction to a Franco-German fact-finding mission in mid-September, which determined that the ceasefire could only be effectively monitored if boots on the ground provided security for monitoring staff.
A spokesman for the German Foreign Ministry told Reuters that Berlin and Paris are hammering out a plan to support the OSCE mission, but were only in the exploratory phase.
Germany has also dispatched more than 100 trucks from 17 different cities to deliver aid, including mobile kitchens, heating devices and blankets, to Ukraine, Der Spiegel reported.
The aid, set to be distributed by mid-October, will specifically be deployed to the east of the country before the onset of winter. The value of the cargo is estimated at 10 million euro.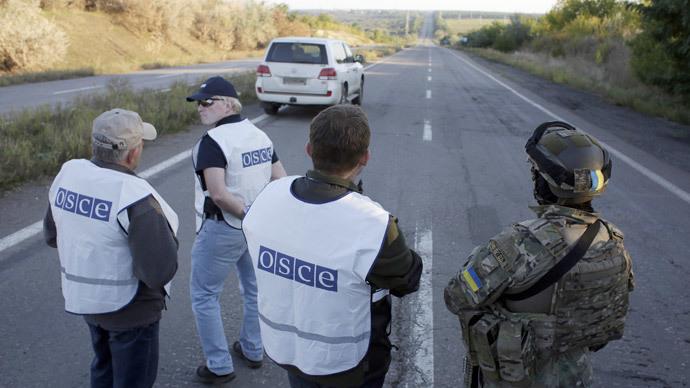 Meanwhile, the OSCE called for an immediate ceasefire in eastern Ukraine on Friday after civilians and a member of the International Committee of the Red Cross (ICRC) were killed.
Kiev and militia forces have accused each other side of being responsible for the deaths resulting from the shelling of residential areas in Donetsk.
"The ceasefire represented a real opportunity for a sustainable de-escalation of the situation; to put it at risk would be irresponsible and deplorable," Didier Burkhalter, the OSCE chairperson-in-office, was quoted by the organization's press service as saying.
Burkhalter added that civilians Ukraine's east needed a return to normalcy, while humanitarian aid agencies needed to be able to safely reach them before winter.
According to reports, fighting for Donetsk Airport has continued on Saturday. Ukrainian military spokesman Andrey Lysenko told journalists that 12 militia members were killed during the assault, "the biggest single loss among rebels since September 5."
Lysenko added that two Ukrainian servicemen were killed during the past 24 hours, though he provided no further details. He denied local reports that rebels had used gas during their assault on the airfield.
Fighters in Donetsk said they were honoring the truce, ITAR-TASS new agency reported, citing a statement from the self-proclaimed republic's Defense Ministry.
At least 3,627 people have been killed and approximately 8,446 wounded since violence broken out in eastern Ukraine earlier this year, according to a UN report released on Friday.
On Saturday, Russia's Federal Migration Service said that 880,000 Ukrainians have arrived and stayed in Russia since hostilities broke out in Ukraine.
You can share this story on social media: