Sabotage or coincidence? Bent iPhone billboards spotted amid #bendgate hype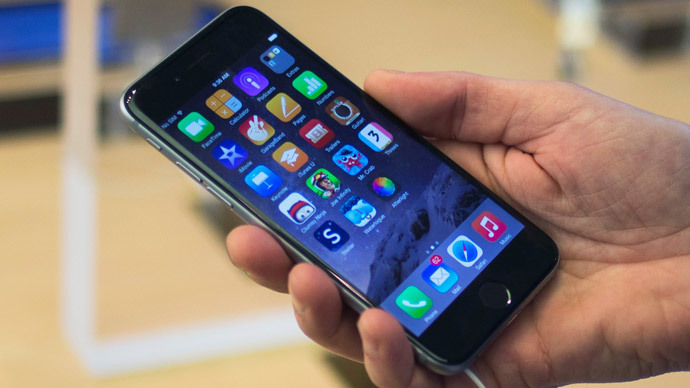 Stores and advertising companies are embracing the #bendgate craze, as bent iPhone jokes appear to be surfacing in the form of large street billboards and posters in electronics stores.
READ MORE: #Bendgate fallout: Company aims to profit from pre-bent iPhone 6 Plus cases
Twitter user @taknil posted a picture of a large promotional billboard which he says was spotted in Berlin. It appeared to be a normal iPhone ad – other than the fact that it was...well, bent.
The curvy shape of the phone pictured was emphasized by the similar bent shape of the board itself.
. @vladsavov@verge I went to check, the bent iPhone 6 poster in Berlin is real an hilarious pic.twitter.com/6lRSbXWVtn

— Tom (@taknil) October 1, 2014
Another find was a large bent promotional poster displayed inside an electronics store in the Netherlands which featured the #bendgate phenomena, reportedly in an attempt to lure customers.
In het echt gezien, de #BendGate poster van KPN pic.twitter.com/FWc3vYniQL

— Jeroen Kraan (@KraanNL) October 1, 2014
One Twitter user was able to confirm that the poster was, in fact, real and hanging in the KPN store.
The #bendgate social media hype began with some iPhone 6 Plus users reporting that their new devices bend when carried in pants pockets. Countless numbers of users also trolled Apple on Twitter, posting images of their bent devices.
READ MORE: Apple accused of banning media covering 'Bendgate' from official events
Samsung is not resisting the chance to poke fun at Apple, with its latest viral video showing its own unique bend test for the Galaxy Note 4.
The video, which has been viewed over 750,000 times, simulates a person sitting on a Galaxy Note 4 hundreds of times without bending it.
However, Samsung may now have its own social media problem to deal with, as the hashtag #gapgate is catching on – referring to reports that some of the Galaxy Note 4 units have a small gap between the screen and the bezel of the phone.
You think #bendgate is bad? As least we didn't have a manufacturing issue, @samsung#gapgatepic.twitter.com/L2dd9w54jO

— Gabriel Graham (@iosxbepax) September 29, 2014