Apple accused of banning media covering 'Bendgate' from official events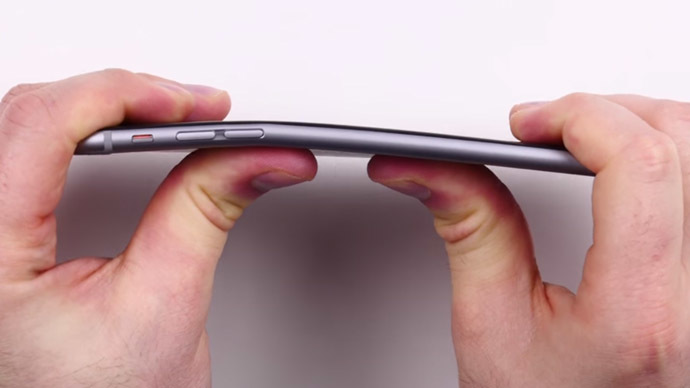 Apple CEO Tim Cook is coming under attack from a Germany tech magazine after the publication said it was told it would no longer be receiving test products or attending official Apple events as a result of a recent report.
According to Computer Bild editor-in-chief Axel Telzerow, his magazine received a phone call from a German Apple representative recently a few hours after publishing a video clip showing that the company's new mobile device, the iPhone 6, can be bent with human hands if subjected to the proper pressure. Soon the video started to go viral, and apparently attracted the attention from some folks affiliated with Apple who weren't all too thrilled.
"We were shocked about how easy it was to bend the device. And so were around 200.000 viewers who watched the video up until now," Telzerow wrote in an open letter to Cook published by his magazine this week. "We can imagine that you and your colleagues must have been shocked, too. This might have been the reason why we got a call from one of your German colleagues the next morning. He was upset, and it was a rather short conversation."
"From now on," Telzerow recalled being told, "you won't get any devices for testing purposes and you will not be invited to Apple events in the future."gate
Now on the heels of the "Bendgate" scandal that made waves as a result of Computer Bild's reporting, Apple is facing further backlash over the German rep's alleged behavior.
"Is this really how your company wants to deal with media that provide your customers with profound tests of your products?" Telzerow wrote to Apple's top dog. "Do you really think that a withdrawal of Apple's love and affection could have an intimidating effect on us? Luckily we do not have to rely on devices that Apple provides us with. Luckily, a lot of readers are willing to pay money for our magazine to keep us independent. So we are able to buy devices to do our tests anyway. Even devices of manufacturers that seem to fear Computer Bild's independent judgment."
"We congratulate you to your fine new generation of iPhones, even if one of them has a minor weakness with its casing," Telzerow wrote. "But we are deeply disappointed about the lack of respect of your company."
According to some, Computer Bild isn't being treated all that differently compared to other critical outlets either. The 9to5Mac website was quick to evoke a recent article by Mark Gurman in which he said "controlling the press" was a key strategy for Apple.
"Apple's PR department presents a cool, measured public-facing image: it only responds to press inquiries when it wants to, doesn't offer quotes unless they'll be reprinted without criticism, and responds directly only when it determines that something needs to be said by 'Apple' rather than 'sources familiar with the matter.' You could picture Apple's PR strategy as the work of a wise, wealthy, and not particularly friendly queen – one always too busy to be bothered, until for some reason, she's not," Gurman wrote.
Consumer Reports said recently that Apple's new iPhone 6 Plus, released last month, can be permanently bent if around 90 pounds of pressure is applied to it. Last week, Apple said that it was "extremely rare" to have phones become misshaped on accident, and that only nine customers had filed complaints as of September 25.