US tanks arrive in Baltics, Poland requests greater US military presence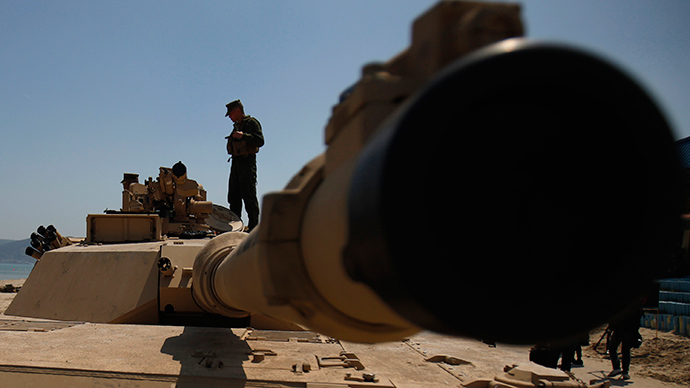 Polish Prime Minister Ewa Kopacz says she wants a greater military presence in Poland in light of events in Ukraine. The comment came as the US announced it is deploying 700 soldiers and 20 'Ironhorse' tanks across the three Baltic States and Poland.
The comments were made during Kopacz's inauguration speech to the lower house of the Polish parliament.

"In the face of what is happening in Ukraine, closer relations with the United States become more important. That is why my government will make every effort to ensure that the United States increases its military presence in Poland," she said.

Meanwhile, the so-called 'Ironhorse' armed cavalry unit – consisting of 20 M1A1 Abrams main battle tanks and about 700 soldiers, along with Bradley and Stryker armored vehicles – is being sent from its base in Texas and marks a considerable increase in tensions between NATO and Russia.

The Baltic countries and Poland have said they are nervous about an increasingly assertive Russia in the face of recent events in Ukraine. This is the first time the US has shipped heavy armored reinforcements to Europe since the end of the Cold War, Reuters reported.

"The purpose is to be a very visible demonstration of commitment to our allies. We may take slightly longer to deploy than lighter forces, but there's nothing like a tank if you really want to achieve effect," said Captain John Farmer, public affairs officer for Ironhorse.

Ironhorse, formerly called the 1st Brigade Combat Team, 1st Cavalry Division, will replace a similar number of lightly armed US paratroopers, who were deployed after Crimea's accession in March.

Tensions between Russia and NATO increased dramatically due to the crisis in Ukraine, although mistrust and discontent between the two have been simmering for the past decade.

Russia has warned many times against NATO's increased buildup and march eastward toward its borders, which it views as a threat.

READ MORE:Russia to boost Crimea troop numbers, worries over military build-up at borders

Russian President Vladimir Putin said in July that the planned US missile defense system in Eastern Europe is not just for defensive purposes, but is an "offensive weapon" which is an "element of the US offensive system deployed outside the mainland."

"As it stands NATO is blatantly building up its forces in Eastern Europe, including the Black Sea and the Baltic Sea areas. Its operational and combat training activities are gaining in scale," he said.

Along with the planned missile defense shield and the enlargement of the military alliance into countries like Ukraine, NATO has also been expanding its military activities in the Black and Baltic Sea.

READ MORE:Ukraine hosts military drills led by US and joined by NATO

Part of Russia's response to NATO's buildup on its borders and the proposed US missile defense shield has been to deploy the advanced Iskander missile system in the Kaliningrad enclave, as well as to increase its own military spending and modernization.
You can share this story on social media: