Men only: Iceland to lead conference on gender equality, no women invited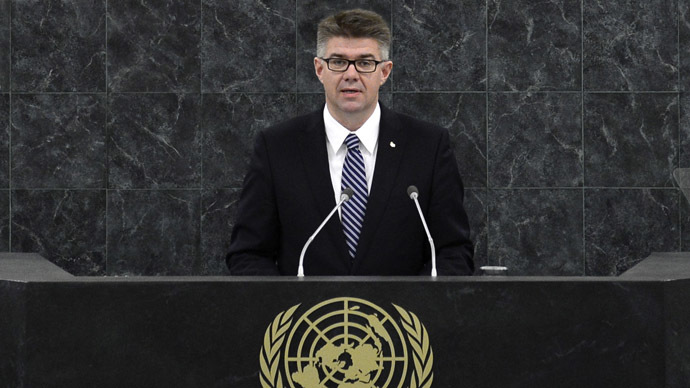 Iceland has announced a UN conference on women and gender equality, with only men and boys participating.
"It will be the first time at the United Nations that we bring together only men leaders to discuss gender equality," the country's foreign minister told the UN General Assembly on Monday, as quoted by AP.
Gunnar Bragi Sveinsson called the January event a "barbershop" conference, and an "exceptional contribution" to the celebration of the 20th anniversary of a historic UN Beijing conference on women, with a special focus on violence against women.
"We want to bring men and boys to the table on gender equality in a positive way," Sveinsson stated.
The conference takes place on the backdrop of the worldwide campaign 'HeForShe', which has been launched this month, urging 100,000 men to participate in the campaign for gender equality.
The UN earlier expected the result to be achieved by 2015, but the head of UN Women Phumzile Mlambo-Ngcuka declared that unless the global situation changes, getting to gender equality might take 95 years.
Iceland and Suriname are leading a group of countries to join the campaign, representing two polarizing attitudes towards women's rights and gender equality.
Just over a week ago, UK actress and UN Goodwill Ambassador Emma Watson gave a keynote speech at the UN, calling for men join the #HeForShe initiative.
"In 1995, Hillary Clinton made a famous speech in Beijing about women's rights. But what stood out for me the most was that only 30 percent of her audience were male. How can we effect change in the world when only half of it is invited or feel welcome to participate in the conversation?" Watson said.
UN Secretary-General Ban Ki-moon said earlier this year that Clinton is to play a major role in next year's anniversary of the landmark speech, which entailed 190 countries setting up platforms for gender equality.