Women in uniform: Duma mulls equal opportunity for female recruits in conscription law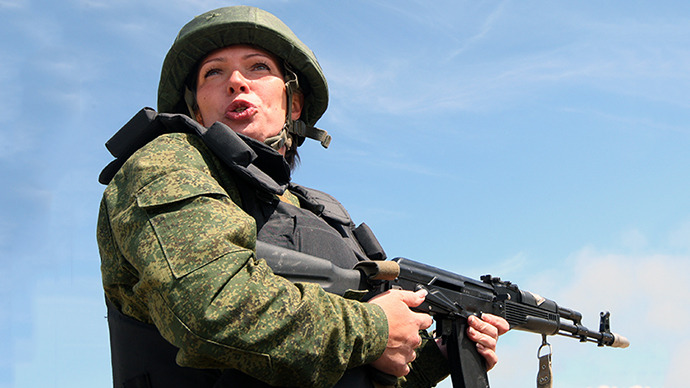 State Duma MPs are discussing a proposal to allow Russian women to perform military service. The relevant amendments have been submitted to the Ministry of Defense for evaluation, Izvestia daily reports.
The law on military service would feature a new subpoint that reads: "female citizens aged between 18 and 27…" may join the Russian services on the same grounds as men should they express a desire. For men of the same age group military service of one year is obligatory.

According to the representative of the Ministry of Defense, quoted by the newspaper, "female military contractors are already serving in the armed forces, so there's nothing wrong in this idea."The other thing is that the law should be correctly worded so that it doesn't provoke a negative reaction in the community," they added.

About 50,000 women are already serving in the Russian Armed Forces. However, the main idea of the proposal to endorse the female military conscription is to equalize women's rights with men.

"We should not encourage women to go into the army. But it's necessary not to deny that possibility to those who are already motivated and would like to serve. This is due to gender equality and the right of women to serve in the Armed Forces," one of the authors of the amendments, Tatiana Moskalkova, explained.

Chairman of the Duma Committee on Defense, former Black Sea Fleet Commander Admiral Vladimir Komoedov believes that women could solve the Defense Ministry's personnel problems. He believes the contract system of recruitment has failed because of the lack of men in Russia.

According to Komoedov, the changes in the conscription law could "help equip the army."

"Soldiers under contract could be replaced with women," the Admiral noted, adding that a woman can actually succeed in a number of mundane army duties.

"They can be radio operators, parachutists, translators, even snipers. Of course, there's no need to put a woman in a tank or a fighter, but there are a number of positions which are too cushy for men, while a woman would just have been right," Komoedov stated. 
He added that after approval by the ministry, the amendment to the conscription law will be discussed at the meeting with Duma's Defense Committee in autumn this year.