Over 30 people feared dead near Japanese volcano after eruption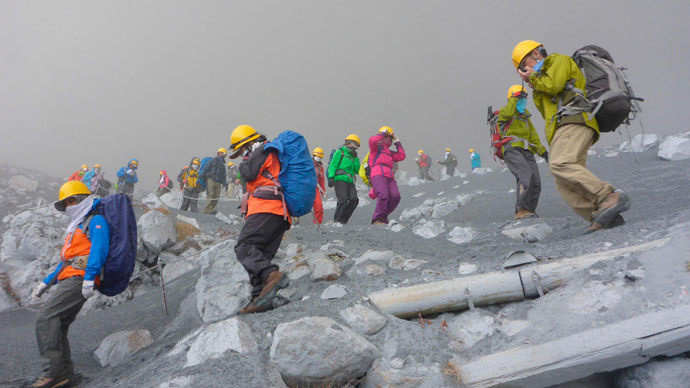 Over 30 people are feared dead near the erupting Ontake volcano in central Japan, police reported. The volcano started erupting on Saturday, sending ash clouds down the mountain's slope for more than 3 kilometers.
Volcano erupts in central Japan, dozens injured (VIDEO, PHOTOS)
The people were found by police officers in a state of "cardiopulmonary arrest" near the top of the volcano, NHK national news reported.
"We have confirmed that more than 30 individuals in cardiac arrest have been found near the summit," a spokesman for Nagano prefecture police told AFP.
At least four people have been confirmed dead, NHK has reported.
Hundreds of people, including children, were left stranded near the top of the volcano, police told NHK. Most of them made their way down Saturday evening.
Japan's Cabinet Office said that about 230 people on the mountain had managed to make their way to safety by Saturday evening.
At least 550 police officers, firefighters and self-defense force personnel were taking part in the rescue mission on Sunday.
According to Japanese authorities, the victims were not breathing and their hearts appeared to have stopped beating. Police doctors are due to arrive to examine the victims.
The volcano continued erupting on Sunday, sending huge amounts of ash into the air. The ash has been found on cars up to 80 kilometers (50 miles) away.
52-year-old Satoshi Saito, a hiker, told Reuters that before the volcano erupted, the weather was good, and there was no warning of a possible eruption. He added that he climbs Mt Ontake several times a year.
"There were no earthquakes or strange smells on the mountain when I was there," said Saito, who climbed Ontake on Saturday and descended an hour before the volcano started erupting.
"But a man who runs a hotel near the mountain told me that the number of small earthquakes had risen these past two months, and everyone thought it was weird," he added.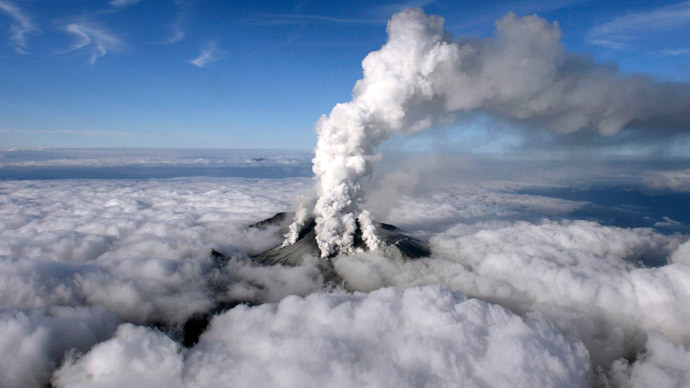 A video recorded by NHK showed windows in a mountain lodge darkening and people screaming as heavy objects were bombarding the roof of the building.
"All of a sudden ash piled up so quickly that we couldn't even open the door," said Shuichi Mukai, who works in the lodge just below the volcano.
The Ontake volcano, on the border of Nagano and Gifu prefectures, 200 kilometers west of Tokyo, started erupting at about 11:53 local time (02:53 GMT) on Saturday.
On Saturday, Japan's Meteorological Agency declared a level 3 volcano alert on a 1 to 5 scale, which means people are advised to stay away from the mountain. The agency warned that the debris from the volcano could fall as far as 4 kilometers away.
At 3,067 meters above sea level, the Ontake volcano is the second highest in Japan. It is also a popular destination for religious pilgrimages.
The volcano was inactive until 1979, but then it underwent a series of eruptions. The latest was in 2007.