Bardarbunga volcano fly-over for sale (AMAZING AERIAL VIEWS)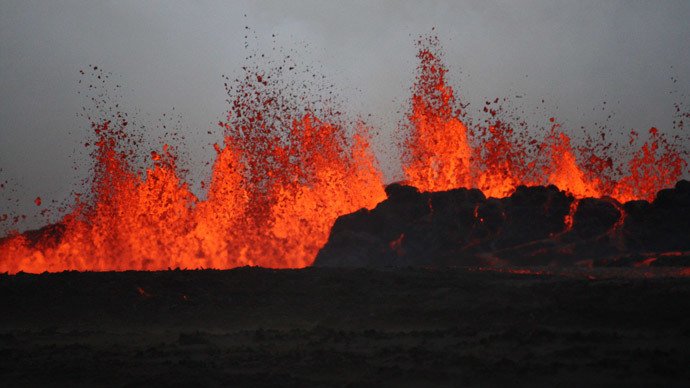 An erupting volcano in Iceland has been providing the world with some stunning views, and now a travel company is cashing in on its popularity. The firm is offering the public the chance to fly over the site and get a bird's eye view of the scenery.
The company, 'Discover the World,' is offering tours over the volcano at a height of just 150 meters. The plane is able to seat four people, but those striving for a close encounter with the Bardarbunga volcano will have to cough up US$920.
There are two flights a day, depending on the weather conditions, with the plane setting off from the capital Reykjavik as well as Myvatn, which is in the north of the country.
Lava fountains have been rising to a height of 50 meters at the Bardarbunga volcano, which have regularly taken the aviation warning to red, the highest on the scale. There has been a lot of seismic activity in the area and Einar Heinarsson, a spokesman from Iceland's department of civil protections says "the eruption is still going on at the same pace as before. It has been continuous."
A twilight photo taken the other day at the eruption site in Holuhraun #Bardarbunga#icelandicvolcano#eruptionpic.twitter.com/cv5ghEZBl8

— Ragnar Th Sigurdsson (@ragnarthsig) September 4, 2014
Bardarbunga is in the northwest of the huge Vatnajokull glacier. The volcano has a dramatic history; about 8,000 years ago it was the source of the world's largest eruption in the past 10,000 years, spewing out lava that covered 950 square kilometers of land. In contrast, the present eruption covers a mere 6.2 square kilometers.
Stunning images from #Bardarbunga#Volcano. Over nine sq.km of lava arround the eruption. http://t.co/HokEvF1Wsxpic.twitter.com/FUfnFp019s

— Vísir (@visir_is) September 4, 2014
Volcanic eruptions are common in Iceland, which is located in the hot seat of seismic activity – on top of the Atlantic's mid-oceanic ridge.
In 2010, a volcano with a nearly impossible-to-pronounce name – Eyjafjallajoekull – erupted in the country, producing a giant cloud of ash that severely disrupted air travel, costing airlines millions of dollars.
Our pilot made an extra circle around #Bardarbunga this morning to let passengers check it out. Thanks to Erla Vinsý! pic.twitter.com/7JUerxD0tE

— Icelandair (@Icelandair) September 3, 2014
More than 100,000 flights were canceled due to the eruption and 10 million people were left stranded after aviation officials were forced to close Europe's air space for five days due to fears the ash could harm jet engines.
You can share this story on social media: